January 6, 2020 –
New forklifts, much like employees after their morning coffee, are charged and ready for action day after day. Their simple existence requires little TLC to function correctly. But, over time and as workloads get frenzied, routine maintenance sometimes gets put on the back burner and parts slowly start to wear down. Eventually, they begin to show their age. Does this sound like anyone you know?
Did they have some work done?
As we age, we all need a little help to look our best. Anyone can have major cosmetic work done and look younger. Used forklifts, however, will not only look new, but they'll also perform like new! Thanks to a rigorous quality assurance process, used lift trucks undergo multiple rejuvenating procedures. From top to bottom, inside and out, each Raymond piece of equipment is inspected, repaired with OEM parts, cleaned, tested, and reset to factory default operating parameters before it's ready to be sold as Raymond RENEWEDTM . If only it were that easy to turn back our biological clocks!!
The before and after pictures may not be as drastic as a Kardashian, but each Raymond RENEWED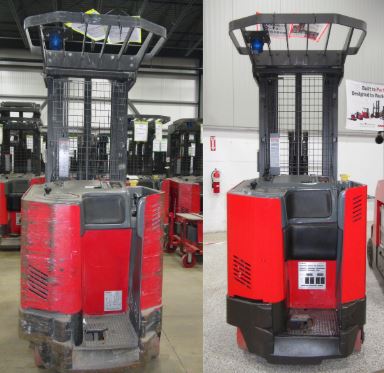 forklift is certified and comes complete with the industry's best warranty when it leaves the shop. Plus, much like going to the spa for customized treatments, our team of professional forklift technicians can provide the level of service that's right for you, even long-term fixed price maintenance.
Amazing transformations!
Like cosmetic surgery, converting used forklifts into pristine, Raymond RENEWED certified forklifts is a meticulous process that takes knowledge, skills, and experience. There is a specific protocol followed, and these changes make a massive difference that transforms a used truck's performance and aesthetic appearance into something close to factory new! Unlike cosmetic surgery, a Raymond RENEWED forklift has its innards rejuvenated as well- not just what's on the surface. Maybe that will someday be the next big thing for us.
Our service technicians are formally trained and certified, not by the American Board of Plastic Surgery, but by completing Raymond's award-winning Technical Development Program. Similar to a surgeon, the technicians receive classroom and hands-on experience required to perform specific procedures so you can rest assured these used forklifts are ready to go to work for you.
Explore your options
As with most significant decisions like going under the knife, it pays to do your homework. Here are several questions to carefully consider before you purchase a used forklift.
What's the budget?
Should you buy a used forklift or a new one?
Have you researched the dealer and asked for references?
What financing options are available?
Can you visit the dealer's facility?
What selection of used forklifts and options is available? What age and how many hours of use?
What type of warranty and post sale support does the forklift dealer provide?
Take your time before choosing with whom to work. Just like a reputable medical practice, your local forklift dealer wants you to have a favorable outcome with whatever product or service you buy. After all, everyone wants to make their customers look good, and we all live or die based on results and reputation.