September 30, 2019 –
In the material handling industry, you've probably heard the term AS/RS, or Automatic Storage and Retrieval System. What if your AS/RS could be automatic or manual, depending on the task, and change aisles so you can only purchase the quantity you need, rather than one unit per aisle as a typical AS/RS requires?
What if it could travel at 8 MPH at all levels, lift and lower at 90 FPM, and never require a battery change? How about a unit capable of lifting 3,000-lb pallets using a fork handler or a shuttle system for slip sheets?
Imagine if it could go more than 65-feet in height and only require travel aisles of 65-inches. Just think of the storage potential. If you had double deep pallet flow or push back rack, the storage capacity is incredible.
You can have it all with the Transtacker
The Raymond Transtacker turret truck is currently available as a manned system requiring an operator to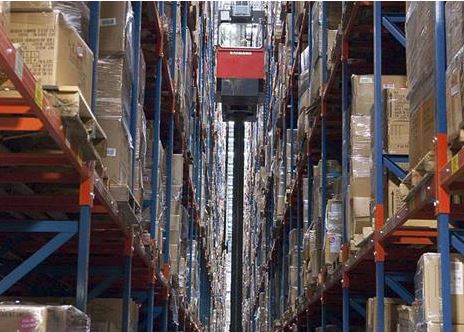 run all the controls. Autonomous versions are coming soon!
It's available in many configurations from dual shuttles, extended reach fork handlers, freezer cab enclosures, stand-up or sit-down options, heaters, lights, etc. It operates on a 36V battery in conjunction with a 480V power feed. The battery always stays charged so you have power for changing aisles and the 480V power system when operating is aisle eliminates the need for those time-consuming battery swaps. How great would that be?
The perfect combination
A typical AS/RS is fully automated, though there will soon be options for Transtacker turret trucks to have both manual and automatic operations. This is a game-changer in the AS/RS market.
Most customers that go with single units limit their options. Imagine putting the unit in automatic mode to put pallets away but switching to manual mode when picking cartons. Half of your task has now been automated, allowing for greater efficiency.
Changing aisles is a manual operation, but you may only need 2-3 trucks for 10 aisles whereas a typical AS/RS would require one unit per aisle. Just think of the cost savings!
The ultimate very narrow aisle storage solution
Many companies are unaware that this equipment even exists. It's been around for more than 30 years,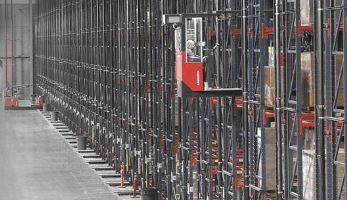 but until recently only a select few of our customers used Transtackers. The cost of AS/RS has always been a deterrent, but this semi-automatic unit can serve several aisles, substantially reducing the system cost.
When can you order a Transtacker? It's only available in a fully manual mode now. But don't worry. There soon will be upgrade kits to add the automatic feature. Are you interested in seeing a Transtacker in operation? We have several customers in the New England area that have successfully used Transtackers for years.
So, here's the big question. Do you want to store more pallets higher? Do you want to pick/pull pallets faster? Have you considered AS/RS? Do you want to automate but think you can't base on your operation? Now is the time to give us a call. We have the equipment that you hoped for but didn't think existed. Give Abel Womack a call and we'll discuss your operation, its needs, and if the Transtacker is the solution you're looking for.