January 3, 2022 –
2021 was a busy year for Abel Womack. Despite dealing with long product lead times and a few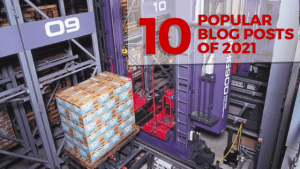 price increases, demand was strong, and we were fortunate to have gained some new customers throughout the year.
During this time, our team created dozens of educational, entertaining, and beneficial blog posts to help educate and inform our readers on a variety of interesting topics.
Looking back on an interesting 2021
We've highlighted the top 10 blogs of last year just in case you might have missed one. There's a lot of valuable content and best practices that can help you run your business better and manage smarter. While we work on great new content for 2022, scroll through the top 10 blogs for 2021 below.
10. Pros & Cons of a Material Handling Market Boom: Prepare Now
I don't think anyone could have predicted the sheer number of forklifts sold in the past year. Many customers cannot believe how long they must wait for a new forklift. And with the steel prices climbing, forklifts and battery prices keep increases. It's not the easiest discussion to have but being proactive is key. Read more
9. Rack Damage: When to Repair vs When to Replace
Safety is very much part of today's reality. An organizations day-to-day operation now includes safety inspections, reports, and checklists. With all the focus on safety, it should be no surprise that when rack damage is discovered in the warehouse, there's a concerted effort to fix the issue. But do you repair it or replace it? Read more
8. How to Choose Between a Vertical Carousel vs a VLM
Companies have goods to store, both large and small, and there are plenty of options available to accommodate them. Carousels and vertical lift modules (VLMs) are two efficient inventory-storing Automated Storage and Retrieval Systems (AS/RS) that are very similar while being very different at the same time. Which system is best for your application? Let's find out. Read more
7. Little Leaf Farms Raises Efficiency & Space with Radioshuttle
Due to a growing demand for fresh lettuce, this modern indoor greenhouse facility has quadrupled in size over the past six years. Rapidly storing and moving hydroponically grown greens within 24-hours of harvest required a unique solution to streamline their shipping and receiving operations. With the help of Abel Womack and Radioshuttle, a semi-automated storage and retrieval system, Little Leaf Farms achieved their goal of maximizing storage space and efficiency. Read more & watch video
6. Behind the Handling: An Interview with a Service Technician
At Abel Womack, we pride ourselves not just on our team of material handling experts and technicians but on offering a clear picture of the employees that make Abel Womack a great place to work. From veteran service experts to our newest field technicians, each member brings their experience and personality to the team. Read more
5. How Big a Warehouse do we Really Need? Warehouse Calculations Simplified
Many times, a client is designing a layout for a new warehouse but doesn't know if the building will be big enough. Or how high the clear height of the ceiling should be. Or even how large a cubic volume they need. Luckily, it's a straightforward process and we have plenty of expertise in this area to help. Read more
4. Pallet Stacker vs Forklift: Which Should I Use?
When moving palletized product there are two main options: a forklift and a pallet stacker. Both have their strengths and weaknesses, but which makes the most sense? Knowing what you need and understanding your business is the first step. Don't waste time and money with a solution that doesn't fit the bill. Read more
3. Very Narrow Aisle Warehousing: Avoid these Pitfalls
VNA is a warehouse design that makes the aisles as narrow as possible while utilizing tall racking systems so as to make material storage as space efficient as possible. In the right application, it can be ideal for both case-picking and pallet handling. Let's look at the things we need to consider. Read more
2. The Basics of Designing Pallet Racking
When designing your pallet racking system, there are several factors to consider, and each will have an impact on how to design a rack system. That's why we don't believe in a one-size-fits-all solution. Read more
1. Standard Reach Truck vs Deep Reach Layout: What's the Difference?
Below five pallet levels high, there is no warehouse layout more space-efficient than with the use of deep reach trucks. A deep reach forklift is able to place pallets in the rear pallet rack position that is four pallets deep. Now that's efficient. However, be sure to do your homework when considering a deep reach design for the warehouse. Read more
Remember, we have many more blogs filled with unique insights, expert advice, useful tips, new product announcements, and more. Visit the website any time to check out the latest post or subscribe to our weekly blog here. If we haven't covered a topic you're interested in, please let us know in the comments below.