June 12, 2017 –
Have you driven one yet? A car that tells you if you're a little too close to the median by buzzing the seat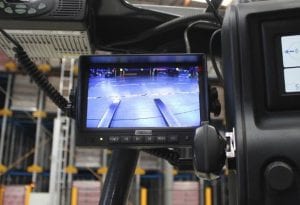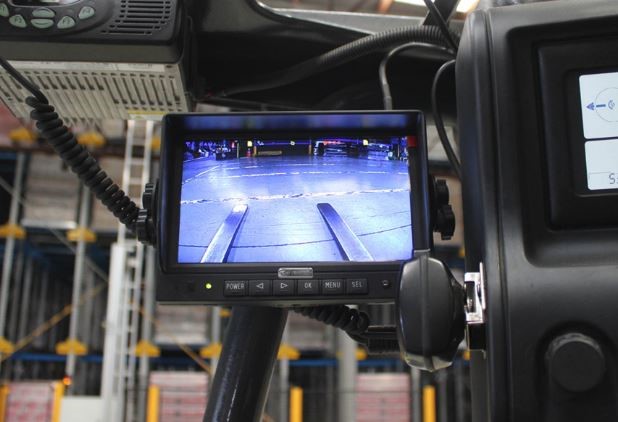 either right or left? Or one that turns the wheel to help you parallel park? Today it seems like every new car has back up cameras and nearby object warning buzzers. Many luxury cars even brake for you in emergencies.
Someday we may all be driving Google cars (or letting them drive us), but for now, today's optional gizmos are still cool, and they make us better drivers.
Safer by Design
Now let's consider forklifts in the same vein. Today, you can get similar attractive features to improve safety and comfort for your forklift operators.
Material handling equipment comes in many shapes and sizes to meet the different needs of today's sophisticated warehouses. Here are some specific features that you may not know are available, but should consider when choosing a material handling truck.
Stand up lifts purposely have easy compartment entry/exit but now available on Raymond trucks are sensors that alert the operator if his foot is hanging out of the compartment. It will alert the operator via a tone and scrolling message and by decelerating the truck to a stop if not addressed. Tilt height indicators improve the speed with which an operator can comfortably position the load for put away or retrieval. Tall trucks most commonly use camera systems to help the operator see what's going on all the way up to 444"- and soon much higher. This is especially advantageous in deep reach applications for improving throughput and reducing product damage.
Orderpicking vehicles with wire guidance (automated steering) can operate much faster and safer in narrow aisles that are required in warehouses for maximized storage density. A popular second type of automation is end of aisle sensors to slow the vehicle when coming to an intersection. And for the most productive applications, high-speed lifting and advanced travel speeds at height round out the offerings.
Swing reach turret trucks can automatically rotate forks and stop at predetermined heights to handle pallets in very narrow aisles faster than ever before.
Lift limits and lift limits with bypass are excellent ways to help the operator from making inadvertent contact with overhead obstructions on all types of lifts.
If your workforce is driving older vehicles with limited capabilities, consider talking to your local material handling expert about these and other purposefully designed, safety related features. They can save real dollars for your operation while protecting your employees.