April 6, 2015 –
There are seemingly endless options and configurations for warehouse storage. Each space dictates its own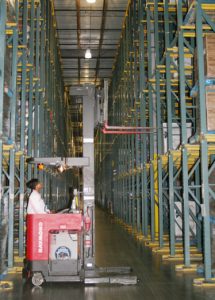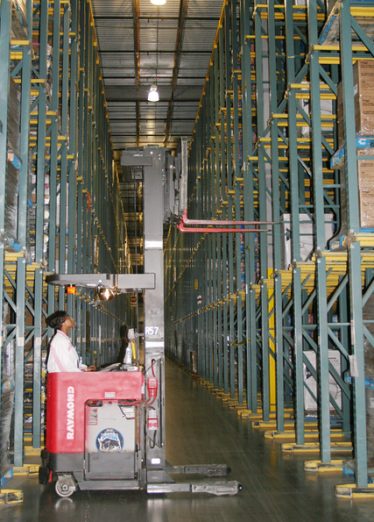 limitations, as do the products being stored. We want to walk you through several storage solutions and outline the basic pros and cons for each. Factors such as time sensitivity or expiration, weight, turnover, forklift accessibility, SKU diversity, or fragility might determine which storage method works best for your needs.
Bulk Storage on the Floor
Bulk floor storage is the most simplistic method and requires no physical storage mechanism other than warehouse space.  Products are stored directly on the floor, typically arranged several pallets deep. The appeal is low cost and ideal when pallets are stackable, low ceiling height precludes storage racks, products are not sensitive to First-In First-Out (FIFO) sequencing, and/or storage density is not a concern.
PROS
Bulk floor storage is easily the most economical form of storage.
No special equipment necessary, as everything is stored on the floor.
Tremendous storage density. 
CONS
Very limited SKU selectivity.
Potential product damage caused by stacking.
Locating and picking products is inefficient due to cumbersome product access and poor product location identification.
Low space utilization.
Drive-In/Drive-Thru Rack Storage
This storage process uses multiple levels of rails for pallet storage.  It can be installed as either Drive-In, which is accessed for product delivery and retrieval from only one side, Last-In First-Out (LIFO), or Drive-Thru, which typically delivers products to one side and retrieves it from the other side, which utilizes FIFO sequencing.
PROS
Takes advantage of vertical height in a building.
Eliminates product damage from storage. 
CONS
Racking costs.
Limited SKU selectivity.
Require unique fork trucks to fit in narrow space and skilled drivers.
Only about 50% space utilization.
Pushback Pallet Racking
This method uses carts installed into pallet racks.  Products are placed on a cart and then pushed back when the next pallet is placed in front of it, and repeated until the final cart is pushed back and the last pallet is stored onto the rack beam.  Carts are installed on a slight decline toward the front beam, so when a pallet is removed, the succeeding pallets travel forward. This storage medium is used when LIFO is an acceptable means to rotate inventory.  Pushback racking is typically the most costly type of manual pallet storage and we see 70% utilization in this system. 
PROS
Higher storage density.
Selectivity at every pick face.
Does not require special fork truck. 
CONS
Costly manual pallet storage system.
Pick and replenish from one side.
Limited to five pallets deep.

Pallet Flow
Pallet Flow is a conveyor system with many versions of the flow mechanism. Pallets are delivered at one end and picked up on the other. These systems provide the density and FIFO storage possible with Drive-Thru without the requirements to drive into the rack system. Facilities using pallet flow see approximately 75% utilization.
PROS
True FIFO, pick function and replenishment function on separate ends of system, which eliminates contentions between picking and replenishment.
Less costly than push back systems, as no special equipment is required.
Not limited to only five pallets deep.
CONS
Like a ramp system, the conveyor takes up vertical space.
Pallets need to be of similar weight.
Need access to both sides of the system – cannot be pushed against a wall.
Some of these storage solutions may be familiar to your operation and have been proven effective in many industries.  Here is one solution Abel Womack and the Raymond Dealer network is excited to introduce—a unique, automated, high density storage system—Radioshuttle.
Radioshuttle High Density Storage
The Radioshuttle system is a unique storage technology with the ability to maximize use of space by combining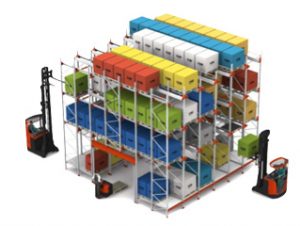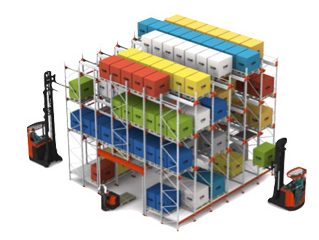 the highest storage density with customized designs. This system can utilize the FIFO structure and take storage density to a new level. This method is tremendously popular in Europe with roughly 50% of organizations using a comparable automation system; Radioshuttle is a revolutionary technology, limited only by warehouse size, and in some cases, pallet size/weight. We have seen applications storing as many as 70 units deep and 10 units high using Radioshuttle. This storage method works best for customers with high volumes of like SKUs (beverage, food, wholesale goods, paper products).
THREE DESIGN OPTIONS
Take the warehouse footprint you have (facility width/depth/height) and fill it entirely with this system, fully maximizing storage space.
For those who want picking aisles, the Radioshuttle system can be installed to properly use a pick aisle with Radioshuttle above and to the side.
Can be used above bulk storage –in many cases OSHA only allows for bulk storage to be stacked 4-5 pallets high – keep bulk storage underneath and put this system above to maximize storage capacity within a given footprint.
PROS
Each cart can hold as much as 3,000 lbs., depending on pallet size.
Carts are battery operated and include four batteries – 2 used in the unit (which last up to 10 hours), while the other 2 are charging.
Need only 1 cart for every 2000 pallets.
Carts are controlled by remote control. Two main functions – in and out.
Additional features can be reviewed here.
Fully engineered system, so radio carts and racking come from one source.
Maximizes available warehouse space by using the full height of the building.
Less damage to goods with internal pallet movement done by Radioshuttle.
Your existing fleet of trucks and drivers can move more product because the Radioshuttle will do the movements of pallets.
Economical, as the cost per pallet is under $200.
CONS
More costly than bulk storage on the floor.
Requires specialized equipment.
New products and technologies, like Radioshuttle, have increased the functionality and selectivity when considering high density storage. So, which storage solution is right for you?
Let a trusted partner such as Abel Womack work through the options with you. We'll design a customized storage solution and help develop a picking and replenishment strategy specifically tailored to your unique application, for current and future needs.