Download Unit Load Brochure
Daifuku's unit load is a high-density pallet buffer designed to maximize vertical storage space while maintaining a compact footprint. Several models are available to handle pallet loads from 500 to 3,000 kg (1,100 to 6,600 lbs.) and rack heights up to 36m (118 ft.)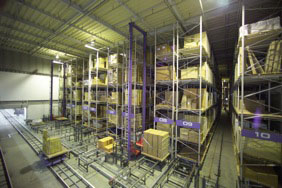 The unit load can also be used to store long or bulky items, hazardous materials and it is also ideal for freezer (to -40 degrees C/-40 degrees F) and low-noise applications.
In addition to a standard unit load, Daifuku also offers double deep rack configuration.
Daifuku's unit load stores and retrieves items placed on pallets, euro pallets, box pallets or roll box pallets. Items are transported to/from the unit load by conveyor, forklift, Sorting Transfer Vehicle (STV) or Automatic Guided Vehicle (AGV).

Contact us for more information about Daifuku's unit load equipment.