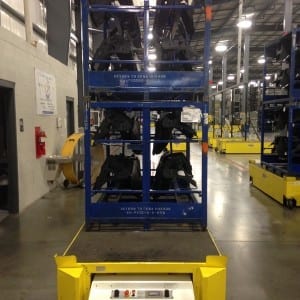 Click here to view original web page at www.dcvelocity.com
SUCCESS, AND WHAT'S NEXT
The impact of all these changes has been remarkable. For example, under the "switcher" system, it used to take three to four hours to move loads from one building to another, and manufacturing lines would order an entire shift's worth of components to ensure they'd always have what they needed. Now, the transfer between plant and production line takes as little as three to 10 minutes. As a result, the lines can order just the materials they need when they need them, which has freed up additional space for manufacturing.
Congestion has been reduced and safety greatly improved. Before, there were a lot of forklifts weaving around each other and moving throughout the plant. With the AGCs in place, the forklifts only operate in their own zones. And because the AGCs run on magnetic strips, Buscher says, pedestrians can see the carts' exact travel path. Furthermore, their laser "bumpers" prevent collisions with pedestrians, vehicles, or other obstacles.
The project achieved ROI in just 14 months, well ahead of the 24-month mandate. Some of the greatest savings—in the millions of dollars—came from a reduction in labor. Overtime is a thing of the past, as are the switchers and trailers that shuttled between the factory and the off-site warehouses. At the DC, less labor is required at the shipping and receiving docks, and a number of forklifts across three shifts have been eliminated. CKNA emphasizes that employees whose positions were no longer needed were offered new positions in the DC, in the plant, or at other company facilities.
That's not the end of the story, though. Currently, the three partners are studying whether the SmartCarts could load and unload themselves by means of power belt conveyors mounted on top. CKNA is also working with Meiji Corp. to put radio-frequency identification (RFID) tags on racks and shipping containers in order to better track them. The DC also aims to replace manual scanning with automatic readers mounted on the forklifts, allowing better tracking of inventory within the facility and connecting it with the lift trucks' movements.
Given its quick ROI, this bold toss-it-out-and-start-over solution was bound to attract attention. And it has: The project received the 2015 Calsonic Kansei CEO's Award for the region encompassing North America, Mexico, and Brazil.
Editor's note:
About the Author
Toby Gooley
Senior Editor
Before joining DC VELOCITY and its sister publication, CSCMP's Supply Chain Quarterly, where she serves as Editor, Toby Gooley spent 20 years at Logistics Management covering international trade and transportation as Senior Editor and Managing Editor. Prior to that she was an export traffic manager for 10 years. She holds a B.A. in Asian Studies from Cornell University.
Email Toby Gooley | More articles by Toby Gooley
Join the Discussion
After you comment, click Post. If you're not already logged in, you will be asked to log in or register.
Feedback: What did you think of this article? We'd like to hear from you. DC VELOCITY is committed to accuracy and clarity in the delivery of important and useful logistics and supply chain news and information. If you find anything in DC VELOCITY you feel is inaccurate or warrants further explanation, please contact Chief Editor David Maloney. All comments are eligible for publication in the letters section of DC VELOCITY magazine. Please include you name and the name of the company or organization your work for.