January 20, 2020 –
Below five pallet levels high, there is no warehouse layout more space-efficient than with the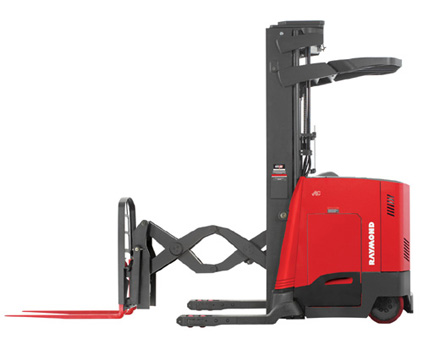 use of deep reach trucks. As can be seen in the layouts below, you can place two pallets deep when using a deep reach layout, which allows the deep reach forklift to access both from an aisle. The reach mechanism, called a pantograph, is extended to allow for pallet placement in the rear pallet rack position. When you design using the typical back-to-back rack in the warehouse, it forms a rack design that is four pallets deep. It's extremely space efficient!
The drawings show the differences between deep reach and standard reach. The deep reach layout yields almost double the number of pallet positions!
So…why aren't all warehouses designed like this? There are many advantages and disadvantages to a deep reach layout. Make sure to use the design where it can be of the most help and cause the least amount of problems.
Advantages of deep reach include:
More space efficient below five pallet levels high – By going four pallets deep per rack module instead of two, you can remove every other forklift service aisle. That yields more pallet positions within the same footprint.
The cost of the deep reach equipment compared to other equipment typically used for high density storage is about half the cost of swing reach (turret trucks).
Because of the wider aisle, two forklifts can both work in and pass each other within the same aisle. As a result, the deep reach design allows for a quicker picking operation when compared to very narrow aisle systems.
Unlike turret trucks, no guidance system is required, which allows forklifts to "free path" within the service aisle, allowing for more flexibility for both put-aways and picking.
All these advantages sound great… right? Not so fast!
Disadvantages to the deep reach design, including:
Deep reach systems work best if both pallets accessed from an aisle are the same SKU. Otherwise, in order to get to the back pallet, the front pallet must be moved. Oftentimes, FIFO is sacrificed.
There is a reduced utilization percentage within the warehouse. Because of the extra step required to move the front pallet, utilization of the rear pallet position can be limited to "as needed."
The deep reach forklifts are marginally more expensive than standard reach forklifts – not a big deal.
Because of the longer pantograph mechanism required to access the rear pallet position, the capacity of the forklift is reduced to a base capacity of 3,200 lbs. plus downrating at elevation. That said, the capacity is adequate for most applications.
There also is a loss of either vertical efficiency or horizontal efficiency with the pallet racking. We'll get into more detail later, but deep reach layouts either require a bottom beam (no loads on the floor), or longer load beams (meaning fewer rack bays down the aisle).
As mentioned in No. 5 above, there are several rack features you need to account for when considering a deep reach design for the warehouse.
Straddle or under-rack?
There are two methods for forklifts to interface with pallet racking with a deep reach design, the straddle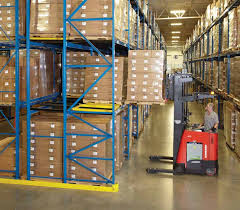 method and the under-rack method.
GMA pallets are 48 inches deep x 40 inches wide across the face. To straddle the pallet, the forklift needs to have base legs (AKA outrigger legs) far enough apart to accommodate the pallet. Usually the forklift would have 42 inches clear between the base legs. With each base leg at 5.25 inches wide, that's 42 inches + 10.5 inches, totaling 52.5 inches. When placing the first pallet level directly on the floor, there is no way to use the standard 96-inch-long load beams with this method. Since there is a minimum of 6 inches required between pallets, warehouse designers need to use a minimum of 102"- 104" long load beams. As the number of storage bays stack up down aisles, one or more of the storage bays may be lost because of the longer load beams required- a small price to pay if you have a good application.
The under-rack method requires a rack design with a raised bottom beam to allow for the base legs to go under the rack. This method requires a minimum of 4 inches between pallets and can therefore use standard 96 inches long load beams. There are two issues with this method, an extra pair of load beams per bay represent additional rack costs and there is an approximate 12 inches loss of vertical storage height.
Invest wisely
As you can see, you'll need to navigate many variables before choosing the correct application of deep reach storage. In 30 years in this business, I have found that the best products to store with this method are SKU's with more than one pallet, SKU's that are medium movers and where FIFO is not too critical.
When you need help to identify the appropriate layout type and best products to be stored, be sure to call the experts. A consultation can provide a lot for just a little of your time. Contact Abel Womack today and we'll walk you through the best available options that suit your needs.
You also may be interested in this white paper: White Paper – HCR Deep Reach.