February 21, 2022 –
With the increasing costs of renting and leasing space, many companies are running out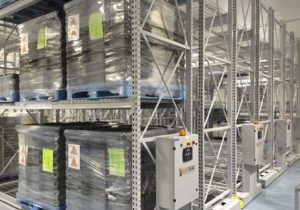 of room in their warehouses but cannot justify a move. Enter the Montel SafeRak Mobile Racking System, a heavy-duty, high-density mobile storage system that helps you save space, drive down costs, and increase efficiency.
Top reasons to "make space" for the Montel SafeRak Mobile Racking System:
Ease of Use
While some systems require substantial training, this is a self-explanatory turnkey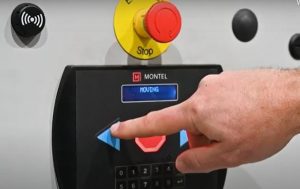 solution. At Abel Womack, we conduct a lot of safety and forklift training, but this is much more user-friendly, allowing the operator to feel comfortable quickly. Simply press a button to create a  lane where needed so forklifts can store or retrieve the product. Then press a button to return it to its collapsed position
Optimize Storage Space
Utilizing your current footprint, you can free up as much as 50% of your storage space, double your storage capacity, and better organize your materials and system. Although this system is not applicable to fast moving items, it eliminates the need for the cost and disruption from expanding or moving and frees up substantial space for other uses. Alternatively, if you are currently in a space that is too large for your needs, it allows you to cut back on unnecessary expenditures by culling down the footprint.
ROI/Cost Savings
Annual leases or rent for warehouse space are averaging around $9.25 per square foot. While the Montel SafeRak Mobile Racking System is an upfront investment with the cost dependent on the size, there is a considerable and rapid ROI. One customer saw an ROI in just 22 months based on the significant savings from not having to rent a larger space and freeing up so much of their current footprint.  
Custom Built for Your Industry
The mobile system can be custom-built and precisely engineered for any industry based on your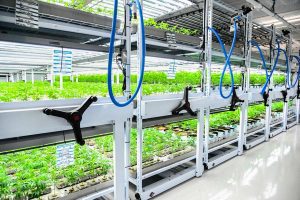 needs. Many pharmaceuticals, tire, beverage, cold storage, and cannabis customers have had considerable success and cost savings by incorporating this option.
Improve Efficiency and Productivity
The system is designed to optimize efficiency and productivity. It allows the operators to use a convenient Wi-Fi remote control so they don't have to step out of the forklift to operate the system. The system also allows for prioritizing the opening and closing of aisles based on shipping timing so the products are prioritized and placed for maximum efficiency.
Go (Con)Figure
At Abel Womack, our team of engineers and account managers offer unparalleled expertise and solutions to help your business thrive. If you are interested in learning how we can help you grow and save money with the Montel SafeRak Mobile Racking System or any other comprehensive material handling solutions, please contact our team today.