November 29, 2021 –
Southworth Products Corp, founded in 1890, is the world's largest manufacturer of ergonomic material handling equipment. They carry an extensive line of different materials designed to make the work environment more ergonomic and safer for workers.
With the shortage of labor today, employers are looking to help workers be as productive as possible while limiting injury due to repetitive movement. Abel Womack helps our customers carefully select suitable Southworth products to help with lifting and positioning work, whether using a pallet or just picking parts.
Southworth Products proven to benefit our customers
Safety
If workers are bending over and picking up boxes at different heights, this will cause strain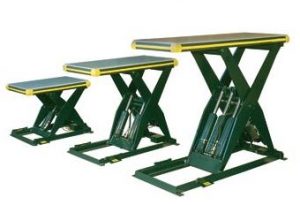 on their backs. Repetitive lifting for several hours per day will likely lead to back pain and potential injury over time. With the Southworth hydraulic lift tables, the pallet starts at different heights and lowers, so it's always at the same, safe level for working versus having them bend over all day long.
Affordability
There are several tiers of solutions for lifting and stacking. The top of the food chain is the robotic palletizer, which is surprisingly affordable and eliminates manual labor completely. The next step down is a lift table, which is significantly more affordable and helps the current workers do their job more ergonomically. Many companies simply use a pallet on the floor or on a pump jack, which still causes bending down, building orders, dragging to shrink wrap, etc. The Southworth lift tables are a cost-effective, middle-of-the-road option that works in lieu of a palletizer to help workers build a pallet safely and efficiently.
Flexibility and Customization
Southworth lift tables provide ample flexibility. They are custom designed to fit any application in addition to having a very high capacity. Southworth has the ability to take measurements and design a custom solution for certain applications.
Increase in Productivity and Accuracy
The lift tables are designed to significantly increase productivity, as they help workers crank out a lot more orders daily in addition to improving the accuracy of orders.
A Big Lift
While hydraulic lift tables, which are available in over 1 million configurations, are the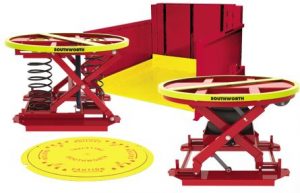 primary Southworth products in demand, we also supply our customers with additional Southworth options. These include pallet handling, pallet levelers for order pickers and pallet trucks, low-profile lifts, container tilters, portable lift tables, turntables, lift-tool workbench lifts, loading dock lifts /air cargo lifts, coil cars, roll handling – upenders, custom engineered equipment, elevating worker platforms, parcel unloader /gaylord unloader, and stainless steel lifts and equipment.
Leave the Heavy Lifting to Us
As a Southworth dealer, Abel Womack provides any of their ergonomic products, which can be custom designed to fit specific applications. Need more information about ergonomic lift tables or any other material handling solutions? Contact one of our specialists today.