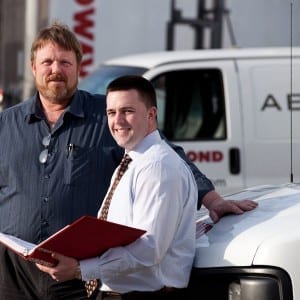 January 19, 2015 –
Selecting an integrated material handling provider for your organization may seem daunting at times but in reality should be an exciting process. Your goal is to establish a solid partnership with a local, reputable company that will help you receive, store, pick and ship product in an efficient and effective manner, thus improving your bottom line.
Here are six key points to consider when you are conducting your search and analysis:
1) Website Research
Many companies today have sophisticated websites that contain very detailed information. I typically like to research the history of a company, their mission statement, industry expertise of their staff and the products and services they offer. Another great area to look into is case studies. Here you can get a sense of how the company approaches and solves real life challenges for their customers, particularly if it's in a similar situation or industry.
2) Meeting Staff and Touring their Facility
While the information you've come up with in #1 may look great, it's always a good idea to physically visit and tour the company that you are considering partnering with. A company that has a presence in the local market will recommend that you visit their facility to demonstrate who they are- their infrastructure, resources, competencies and, most of all, their people. In the Material Handling Industry, at the very least, do a drive by of the facility to determine if they make the first cut.
3) References
To me, one of the most important parts of the selection process is this one. Asking for references will give you insight into the company itself, customer service levels, product(s) and post-sale support. After touring a facility and meeting with their personnel, you will have pros and cons and impressions for each. However, until you speak with people who have been dealing with these providers first hand, you may still have a lot of unanswered questions. I've found that in many cases, references will most likely have dealings with several of the material handling providers you are considering. So it is always good to ask about each of the companies you are researching, not just the one who referred you.
4) Site Visits
At this point in time, you've done your research, visited their facility and talked to current customers. It is now time to see the products and equipment in action! I recommend setting up a day with each company where you visit three to four facilities within a reasonable geographic area. This will allow you to view some of the solutions you are considering for your operation. It is important not to just focus on one industry or application. You want to get an understanding for the different environments the equipment can run in, should your operation change down the road. The other great thing about site visits is you may get some new ideas you would like to work into your own operation (assuming you are not infringing on any non-disclosure agreements you had to sign prior to entering).
5) Demoing Equipment
Now that you've seen the equipment in action, it's time to try it for yourself. If you have a current facility, companies will usually demo their equipment for three to five business days. This is at no charge to you and a great way to compare the different brands head to head. I always like to have a service technician on site with me during a forklift demo so we are able to open up the truck and answer any technical questions that may arise.
If you are looking at a product that is not something you can demo, you can ask for a product sample but will need to rely more heavily on items 2-4.
6) Decision Making Process
Let the fun begin. You are now ready to request proposals from the vendors that have made the final cut. It is important to meet face to face with each company and go through their offerings in detail. You will need to understand items such as racking or conveying systems, forklift trucks, power (for electric lifts), service and acquisition alternatives and financing options. If you aren't knowledgeable, let the providers educate you during the process, although you may need to discern fact from self-serving fiction. Discount the 'facts' from one provider that are inconsistent with the others and, if glaring, discount the provider.
Confident, high quality suppliers understand the selection risk you are feeling, so ask them about 'proof of performance' or other risk mitigating approaches. The best ones will work with you on sharing the risk, as they know they will perform.
Selecting an integrated material handling provider may not be an easy task, and rapidly evolving technology and changing business requirements can make the process more difficult. But with thorough research, it is possible to choose a company that is right for you.
What factors influence your decision when selecting a provider? I'd enjoy hearing from you. Post your comments below.