September 17, 2018 –
Robotics is all the buzz these days but is the technology right for you, and more importantly, is there an ROI for your company?
Robots have been earning their keep for many years through numerous applications from robotic welding cells at automobile factories to "Flippy" flipping burgers behind the counter at CaliBurger in Southern California.
Robots started out helping humans on production lines where repetitive tasks were tedious or sometimes dangerous. Here, they were always guided and programmed by the software that controlled them. Now, cameras and collaborative skills have changed what robots can do and how they can help you reduce costs and improve productivity.
The Introduction of Vision
Robots today are tasked with more jobs thanks to sensors, actuators, and artificial intelligence. Before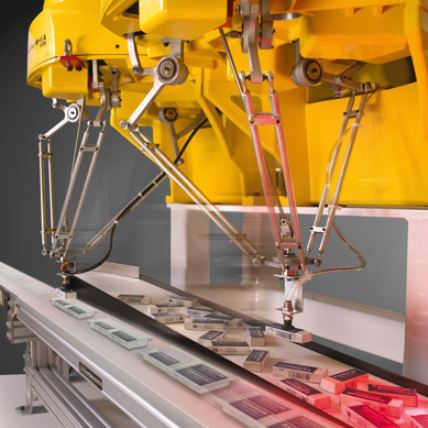 the emergence of these technologies, robots were essentially sightless. They needed to be programmed to move to a particular spot to weld a car body or be guided to pick up a stationary carton on a conveyor for palletizing.
With the advent of machine vision, 2D or 3D cameras enable the robot to build a picture of its surroundings, allowing the robot to identify shapes, objects, and orientation. This has dramatically expanded their applications to include pick and place as well as packaging. Vision-enabled robots can identify, orient and package your product while an end-of-line palletizing robot builds out the pallet for shipment to your customer.
Cobots
Collaboration means to work jointly on an activity, especially to produce or create something.

Collaborative robots, or cobots, are designed to work with humans, not for humans. A cobot acts as an assistant and is involved in targeted, complex, or sensitive tasks that can't be automated. Cobots are designed to work side by side with your employees to better build your product without any additional safety devices required, such as fencing or guarding.
Industries served by Robots
Assembly
Machine Tending
Material Removal
Palletizing
Picking
Packaging
Applications for Robots
Aerospace
Agriculture
Alternative Energy
Consumer Goods
Die Cast
Foundry & Mold
Electronics
Food & Beverage
Medical
Pharmaceutical
With the rise in full-time labor costs, the shortage of qualified workers, and the need to reduce workplace accidents and claims, robots can be an attractive and cost-saving addition to your operation. Your material handling expert can help analyze your operation and determine if robots, their skills, and their ROI make sense for your company.