October 11, 2021 –
What a difference a pandemic makes….
It is no great secret that e-commerce consumer shopping has been skyrocketing over the past number of years. But during the 2020 pandemic period, in which consumers were forced out of retail locations to shop from
home, there was a huge surge in e-commerce shopping. More interesting, there seems to be no turning back as more shoppers are getting used to online shopping and plan to stick with it. According to the eMarketer, online consumer shopping will more than double its percentage of overall retail sales in just the six-year period from 2019 to 2025, going from 11% to 23.6% (see chart).
And though reports show that consumers have been returning to in-store shopping during 2021 it is still down as compared to before the pandemic. According to Statista, "In the last week of August 2021, foot traffic among shoppers in the United States was down by some 26.5 percent when compared to the same week in 2019. Over the past couple of months, weekly footfall was still between 20 and 30 percent lower than usual, i.e., compared to before the coronavirus outbreak."
So, what does this all mean for these brick-n-mortar retail locations?
Empty and low-performing stores and shopping centers are being repurposed for distribution. Many are becoming warehouse and fulfillment centers as online shopping continues to outpace in-store shopping. A study in 2019 (before the pandemic) by CBRE noted "major retailers were choosing to convert under-performing retail properties into e-commerce hubs to bolster ancillary businesses like packaging, transportation, and logistics."
Larger retailers like Walmart and Target are beginning to change over stores suited for being mini warehouse or distribution hubs to make the last mile process more efficient and pleasing to the customer. Target CEO, Brian Cornell described the transformation as "placing our stores at the center of modern network design to deliver an unmatched combination of convenient fulfillment options."
The ideal stores are ones close to their customers. These are usually in more congested, urban and suburban locales or out-of-the-way rural regions, which, with small roads, complex routes, traffic and pedestrians, is more difficult and costly to make deliveries.
The large regional distribution center is designed to receive large trucks with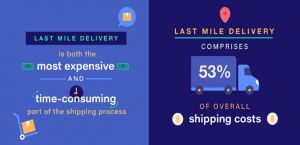 large amount of goods to its one location. Last Mile Delivery requires many smaller trucks (vans, cargo vehicles, etc.) carrying limited amount of goods to many end-user customers. This, as it turns out, is the most expensive part of the shipping process – roughly 53% of overall shipping. If not designed properly, Last Mile Logistics can eat up a large chunk of a company's profit.
Another important element to the success of Last Mile Logistics is customer satisfaction. Because of what Amazon, Apple, and a few other successful e-tailers have accomplished over the past decade, customers have come to expect on-time delivery with little to no inaccuracies. Studies have shown that 84% of online shoppers are unlikely to purchase again from the same e-tailer after a bad experience. On top of that, customer expectation is getting more heightened as these e-tailers attempt to outpace each other.
A new study shows that as much as 88% of consumers are willing to pay a premium to receive SAME DAY or faster delivery. Hence, the same study shows that 80% of logistics companies expect to be providing same day delivery by 2023. Inevitably, same day delivery is expected to reach a 25% market share by 2025.
Another major benefit to micro-fulfillment centers in urban regions is the access to localized labor pools. Just as the consumers are located more in the city areas, so is the warehouse labor pool. Instead of requiring workers to travel long distances out from the city centers, the urban warehouse brings work closer to home – and makes it easier to find quality labor, particularly these days when finding workers has been a challenge.
This is why taking over or converting low-performing retail locations and turning them into mini-distribution/fulfillment centers while using the most efficient small-vehicle delivery process is the bright new way to provide on-time and accurate deliveries while remaining profitable.
So, how does a retailer jump into this game and build out its store for distribution?
Switching over to becoming a micro-fulfillment/local distribution center isn't as

insurmountable as it may seem. As an example, a retailer with a 100,000 sq ft store that has been set up as 75% retail and 25% warehouse can now reduce its unused retail area and double up on its warehouse space in order to take on more product and fulfillment equipment. By transforming them into mini distribution hubs, businesses can pair them with last mile delivery services to provide fast and accurate shipping.
Companies, like Abel Womack, which specialize in restructuring and optimizing warehouse and distribution space, redesign and help retailers repurpose their lackluster retail space. With micro-fulfillment technologies like Autostore, Locus AMR's and Kardex VLMs, there are practical and cost efficient ways to do it. So, instead of falling behind or worse, retailers can revitalize their currently under-used space while providing a vital service that can be both profitable today and grow with the future of consumer purchasing of tomorrow.
You may be interested in these articles:
Why retailers are turning their stores into fulfillment centers by Jia Jen Low
Turn your retail space into distribution space by Gurram Gopal
What You Need to Know About Last Mile Logistics by Brett Fuller
7 Last Mile Delivery Trends You Won't Want to Miss by Kyle Klug
Last Mile Logistics: 7 Trends to Watch in the Next 12 Months by Bobbie Tooulis