September 11, 2018 –
Consider this scenario: Next Monday is a big day. C-level executives will be visiting your branch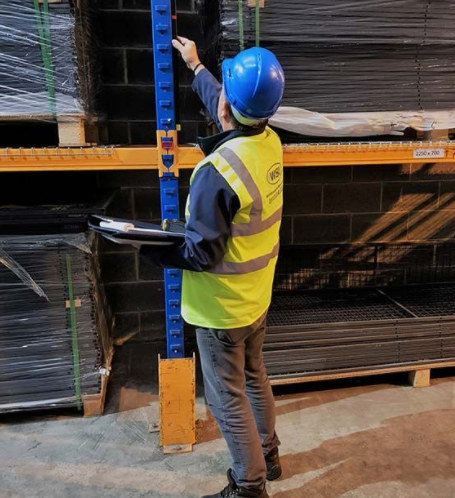 from corporate headquarters, and you need to make sure your facility is operating efficiently and looks up to par. You start with a walk-through of the warehouse. As expected, you do find a few pallet rack uprights that have been damaged by forklift impacts. What do you do?
To address the damage, you need to first determine if the uprights can be repaired or if a replacement is necessary. But how do you make that determination? Can you be certain you don't have a safety issue on your hands? Who can you call to assist you?
Here's a practical guide to help you address these questions and the damage:
Repair or Replace?
As a rule, any bends or damage exceeding half an inch in depth needs immediate repair or replacement and is considered high priority. Anything less than a half inch may not need immediate replacement but setting a proactive plan in place to address the damage in the future is a good idea.
If the upright column is bent, typically at the first beam level, it needs replacement. Adjacent bays to uprights with this level of damage should be unloaded and marked as 'out of service'.
Other, less severe damage should be noted for future monitoring.
Once you've determined that the upright does need repair or replacement, which solution makes the most sense? The answer will vary greatly depending on several factors, including availability of the upright, freight costs, number of shelves in each bay, and whether in-rack sprinklers are used. Comparing the benefits of replacement to repair will help you determine which best fits your needs:
Complete Upright Replacement
Pros:
Clean look – like nothing ever happened
No splice points to interfere with beam placement
Maintain consistency in racking brand throughout the warehouse
Cons:
Freight can far exceed cost of the upright
Requires all shelf levels to be removed
Labor costs are likely higher
Repair Sections
Pros:
Only lower shelves need to be removed
Some repair companies, like Damotech, offer lifetime warranties against damage due to the robust design – the next time they are hit, they will not require replacement
Lower freight costs
Cons:
Splice points can interfere with shelf placement
Some people prefer not to modify existing uprights
By considering these factors and speaking with a racking specialist, you can now determine the best process to repair your damaged upright. And, once you've made the repairs, it's a good idea to consider an annual rack inspection, including all connections, beams, wire decks, anchoring, etc. Your racking specialist can assist in putting a plan together, and you can avoid these last-minute hassles.
As an aside, this also is a good time to consider a telematics system, like iWarehouse, to help avoid these impacts in the future by greatly increasing operator accountability. You can learn more about these systems here.