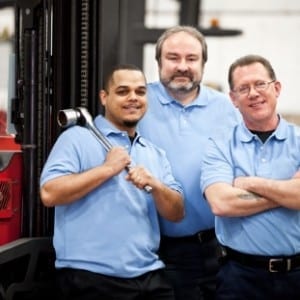 February 17, 2015 –
Ask yourself, do I really want to service that forklift equipment?  Am I really doing a good job maintaining my equipment or is it just a distraction from all of my other responsibilities?  I think most of us would say the truth is somewhere in the middle.
Forklifts are critical to the operation. Sure, you can service your own equipment and many companies do a good job of it. But is it really the best approach? Is it really the best use of your time and resources?  Well, obviously only you can answer that question.
With today's technology and transparent connectivity between companies, outsourcing forklift maintenance has become a natural fit with many companies.  Companies are looking at forklift service centers to take responsibility for getting them out of the forklift service business.  The biggest reason is that equipment is becoming more sophisticated and it's therefore increasingly difficult to recruit, train and onboard qualified service technicians.  With certified, factory-trained service technicians readily available, it's no wonder service center resident technician programs are experiencing a surge.
How do you plan to meet the increasing needs of forklift maintenance? Try to recruit and train more service technicians and do it yourself, or outsource it? What other options have you found? Let's discuss it.