July 18, 2022 –
Companies today are facing extensive labor shortages in their warehouses along with a continued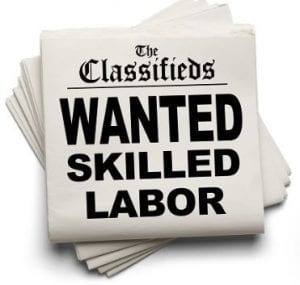 increase in costs due to supply chain issues and other factors. Managers are tasked with recruiting and hiring forklift operators in order to help their businesses run efficiently and reach maximum capacity. Enter Raymond's award-winning Virtual Reality (VR) Simulator, designed to be a scalable and flexible teaching tool for attracting and retaining skilled labor in warehouses. The VR Simulator creates an augmented reality for an operator, simulating actually running the various types of lift trucks. It's probably the most significant advance in training in decades.
What makes the VR Simulator an industry game changer?
Raymond's new 2.0 version has made some significant upgrades. The screen currently has a 5K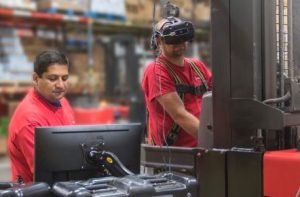 resolution, and comes with a wireless headset, gaming laptop, fast set up with small portable case and fewer components and includes a spare battery. It is designed to train new and existing forklift operators on the latest immersive technology, develop their skills with guided lessons that increase in complexity, and set safety standards for your facility. It increases operators' skills, reinforces best practices, and reduces turnover, leading to more profitable and fluid business operations.
How does it help you hire new operators?
The VR Simulator's technology helps you quickly and efficiently determine if a candidate has the necessary skills for the job. It boasts 15 instructional modules with over 250 lessons, covering beginner to advanced skill sets and the most truck models and operational scenarios in the industry.
What are the options for implementation?
The beauty of the VR Simulator is in the flexibility. There are three ways companies can utilize the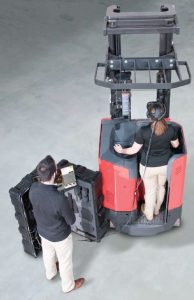 simulator based on their current fleet needs. The first option is a Virtual Reality Buck. The buck is an affordable solution that enables your current trucks to continue operating while giving you an operator compartment for your training with the flexibility to locate them in a place most convenient and out of traffic.
The second option is to utilize an actual truck. This option is beneficial in the sense that it offers a more extensive range of models and lessons and is designed to help train your operators on the specific applications and trucks they will be using.
For the greatest scalability, the third option for the VR Simulator is a Hybrid Buck/Truck model. You are the most flexible with the hybrid option since you can add new simulations and trucks as your fleet grows and shifts.
Abel Womack Can Help With "Virtually" All of Your Material Handling Needs
Our experienced team is dedicated to helping your company succeed by reducing your turnover rate and increasing productivity within your operations. If you need more information on the Raymond VR Simulator or other options for your warehouse, please get in touch with our specialists today.