December 12, 2022 –
If you are like me and you have spent a lot of time in warehouses, then you have definitely seen damaged pallet racking. When pallet racking is damaged, the structural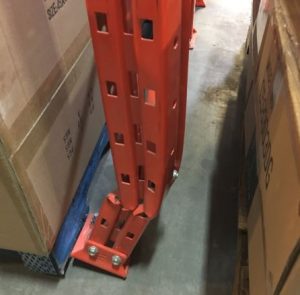 integrity can be comprised and, if so, an unsafe situation may be created.
The best thing to do with severely damaged racking is to unload it immediately to reduce the risk of a rack collapse. After the racking is unloaded you are presented with two options- rack replacement and rack repair.
Rack Replacement
Rack replacement is relatively straightforward. Once the rack is completely empty on both sides of an upright, each beam is removed at every level, the upright is then taken away and replaced by a new one. Now the installation team must reattach each beam and re-anchor the upright in place. This process is time consuming and leaves you vulnerable to the same issue in the future.
Rack Repair
On the other hand, rack repair can leave you with an upright that is going to protect against an impact from a forklift (or anything the forklift is carrying) and will stay structurally sound indefinitely. Let me explain.
Abel Womack partners with a company called Damotech who provides rack repair kits that can be completed in place with minimal disruption to the operation. There is no need to remove all beams and, in some cases, unload the racking.
Damotech repair kits are a long-term solution that will repair damaged uprights on ANY type of racking. It doesn't matter if it is roll formed, structural, relatively new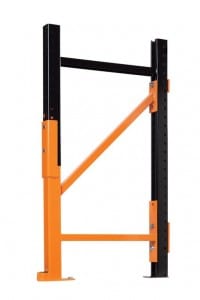 or very old, Damotech makes a kit that will fit and will not have any negative affect on the capacity of the racking system. The best part about the Damotech repair kits is that they are made of ¼" steel which makes them virtually indestructible and come with a lifetime impact warranty. What a great way to mitigate damage in the future for high traffic areas- the usual cause for the damage in the first place.
Next Steps
A seasoned account manager can inspect your racking system, advise you on any necessary repairs/replacements, provide a quote and once approved, Damotech will custom make a kit specifically for any upright based on the specs. Once the repair kits arrive, an installation crew will come in and install the kit without removing any beams or the undamaged part of the upright. A small crew can typically complete 6-8 repair kits per day without disrupting any operations.
Whether you're ready to set up a rack inspection or need to discuss options surrounding rack damage, please contact Abel Womack today.