March 1, 2021 –
Safety is very much a part of today's reality. An organization's day-to-day operation now includes safety inspections, reports, and checklists. Full safety departments are now common in most medium to large companies. So, with all this focus on safety, it should be no surprise that when rack damage is discovered in the warehouse, there is a concerted effort to fix the issue. We've all seen those videos of warehouse rack collapses, and no executive or manager wants that to be their warehouse.
There are typically two main components in racking—uprights and beams. If damage occurs to beams,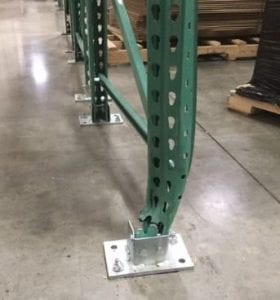 they are almost always replaced. They are relatively inexpensive and straightforward fixes; replacing beams is as easy as popping them on and off.
Uprights, however, are very different. When upright damage is discovered, there are truly only two ways to fix the problem—you can either replace the damaged rack or repair it. Each option has its advantages and disadvantages.
Deciding What is Right for You
Repairing a rack upright is a fairly involved process, There are upwards of 27 different measurements that need to be taken when specifying a specific type of upright for repair. Each repair kit is designed specifically for that particular upright, with special attention on the damaged location. Once the repair kit is received, there is minimal operational interference. A few pallets right around where the damage occurred need to be relocated, but operations can otherwise continue normally.
The installation crew will support the upright with a tool just above where the damage is, cut out the compromised part, and replace it with a new piece. When a rack is damaged, an Abel Womack racking expert is called to evaluate the damage and offer suggestions for either repairing or replacing it. Rack repair companies like Damotech offer very robust, hard to damage repair materials with lifetime warranties. These materials can get your warehouse back to normal in no time.
Evaluating All Costs
Surprisingly, replacing a rack is often the less expensive option compared to simply repairing. So why not always opt to replace the damaged rack? A new, more robust upright is better than an older repaired part, right? Well, not exactly.
If you opt to repair your rack, and you do not add additional protection or work to improve operator driving habits, the likelihood of repeat damage is high. The cost of repeated replacements will drive up costs each time damage occurs. Damotech offers a lifetime warranty against damage and abuse. It's a very robust product which can withstand almost anything you can throw at it in a normal warehouse environment. Please watch their brief 30 second video clip to see a quick repair and the strength of the repair kit.
Additionally, in about 20-25% of all racking, a sprinkler pipe runs through as a means of protection against fire damage. The cost to replace rack with a sprinkler running through it will be far more expensive than to repair the damaged section. To disengage a charged sprinkler pipe alone can easily be in the thousands, if not tens of thousands of dollars.
On top of cost, replacing an upright can be more operationally invasive as well. When replacing uprights, you need to remove everything it holds, including both full bays on either side of the damaged upright. And again, if no changes are made to avoid damage in high traffic areas throughout the warehouse, repeated damage is simply bound to happen.
Let Abel Womack Get You Back on Track
When your warehouse experiences rack damage, count on the Abel Womack experts to be available to be on location and provide an accurate and honest evaluation. Our team takes all your needs into account and offers suggestions based on your budget and time frame. Contact us today to learn more about our rack repair and replacement solutions.