May 3, 2021 –
At this time last year, it would have been hard to predict that we would just now be looking at many around the country becoming fully vaccinated with a hopeful light at the end of the COVID-19 tunnel. It was then that we began to realize the severity of this pandemic and the effects it would have on our everyday lives with so much being shut down.
With something so unprecedented there lies a very difficult task at forecasting what might happen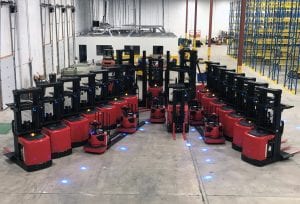 as things started to reopen and many of the COVID restrictions lifted. One area in the material handling world that I don't think anyone predicted is the sheer number of forklifts sold. After Q1 (Jan-Mar) of 2020, we will use a rough number of 20,000 forklifts sold in the US market. As you can imagine, the fears of the virus were not yet full bore in the US and there was uncertainty about how serious it really was. Fast-forward to Q1 of 2021 and the number of forklifts sold has exploded to 45,000. Is this good news? Absolutely, but with that increase comes many challenges to  meet customer expectations!
Let's look at a few of those very challenges we are seeing across the industry today:
Lead Times
Due to the sheer volume, the unavailability of labor and component shortages, many forklift manufacturers have severely extended lead times; with some over 40 weeks depending on the model/specs. If the orders continue to pile in – which so far in April appears to be the case – customers will have to deal with the headaches of these longer lead times unless they can work with units in stock.
Price Increases
Steel prices are up almost double in the past 12 months along with many other components and the cost of labor to manufacture a forklift. With that, almost every single vendor has announced one, and in some cases two, price increases that have ranged from 3-10%! Many companies who have implemented one increase are now assessing if they need to prepare for another one if the market stays on this trajectory.
Power Availability
On the electric forklift side of the business, every unit must come with a battery and, in most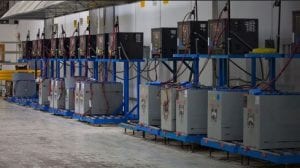 cases, a charger. Battery and charger manufacturers are seeing many of the same issues and challenges that we are seeing on the lift truck side, thus creating longer than normal lead times for batteries and even worse for chargers. This makes it more difficult when selling reconditioned or stock units and can provide additional costs for loaners and/or rental units in the interim.
Customer Satisfaction
Many customers cannot believe it when we tell them how long they must wait for a new forklift. Given that customer satisfaction is at the top of the list, this is not the easiest of discussions to have. We are making sure to get in front of this, especially with customers we know will be ordering for delivery before the end of the year. We are trying to get their commitment now knowing that in another 30 days we might be looking at deliveries into 2022!
All in all, a boom like this is certainly a good sign and trend, but it also has led to challenges. So, if you're planning on purchasing a new forklift this year, be proactive and call your material handling provider today.