August 3, 2015 –
Battery care; it's one of those every day, mundane tasks that's so easy to overlook.
You're busy, and in the race to get through the day, order fulfillment, worker safety, daily operations, and inventory management take the lead. But taking the time to consider your lift truck batteries could go a long way to improving your bottom line.  Forklift batteries are costly to replace and unfortunately, many batteries are replaced far too soon as a result of improper care and neglect.
As a former service rep, I've seen several instances of poor battery upkeep, costing businesses thousands of dollars. Many forklift users plug  the battery into the truck and go about their business, seldom remembering to check water levels or equalize the charge, and are often guilty of charging the battery when convenient instead of waiting until its discharged (when utilizing a non-opportunity charging system) – all of which will reduce the life of your battery.
By incorporating small, simple measures into your daily schedule, you can drastically improve the lifespan of your batteries, and by extension, your lift trucks. The key benefits your business will experience when you introduce a battery maintenance program include:
Decreasing expenses
Improved safety
Greater performance
Extended life span
Power up your bottom line
The average cost of a new battery, depending upon the lift truck, will run you between $2,000-$8,000. Protect your investment! With proper care and preventative maintenance, a new battery should last you between five and seven years. Because of neglect and poor charging practices, many batteries need to be replaced in half that time.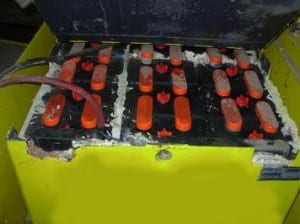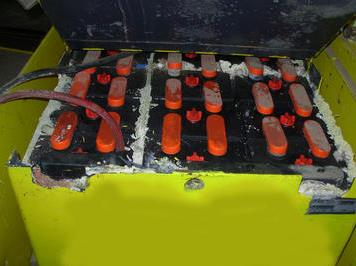 When a battery is nearing its end, there are some obvious signs.  In addition to sulfating (see the picture) the big one is that the battery no longer holds a charge the traditional six-to-eight-hour a day.
In order to prolong the life of your batteries, I have a few maintenance tips.
When to Charge: Before recharging your batteries, you should wait until the battery is at least 80% discharged. Each time you charge before that 80% mark, you are unnecessarily reducing the number of life cycles for your battery, unless you're utilizing an opportunity charging-specific system. Most batteries can be charged 1600 – 2100 times in their useful life. Every charge counts, so only recharge a battery when it really needs it.
How Long to Charge: With each charge, you should fully charge the battery; approx. 6-8 hours with a proper cool down period of around 2 hours. This shouldn't be a problem if you're charging batteries overnight.
Water Levels: After charging is complete, check water levels. Incorporate bi-monthly water checks into your battery maintenance schedule. If a battery does need water, fill it to just above the grid plate. Remember to always water batteries AFTER charging, never before. The reverse can lead to a boil-over and potentially destroy the battery or the charger.
Delivering Positive Performance
One of our customers, a regional food manufacturer and distributor, was having difficulty determining why they were experiencing an increasing loss of battery life. After assessing their process, we discovered that the forklift operators were charging their batteries with incorrectly matched chargers. They also were opportunity charging the batteries with a non-opportunity charging system. A charger and battery must work as a tandem; the charger has to match-up with the electrical output specifications of the battery.  With proper routine care and preventative maintenance, you'll avoid damage and extend the overall batteries' life.
We're interested to see how better understanding of battery maintenance and the implementation of some simple measures can influence how often you replace batteries.  If you have questions about your battery turnover, we can help assess your usage and determine how you can adjust your battery maintenance practices. Leave any questions or comments below. And tell us how often you've been replacing forklift batteries.