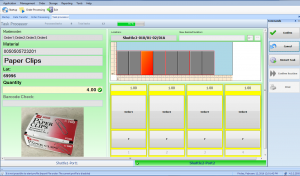 Power Pick Global (WMS) is a software solution for managing inventory and controlling order picking and automated handling. Power-Pick-Global-Software-Solutions provides various picking strategies to optimize picking processes such as batch picking, zone handling, dynamic zones, area handling and multi-user-picking. Multi-user-picking provides the flexibility needed to add additional labor to increase picking speeds when order volume is high, increasing productivity significantly. Bar code verification, weight control, and a variety of pick-to-light technology results in an increase in accuracy and a reduction in errors. Pick-to-light and put-to-light optical indicators are designed to direct the operator to the exact location of the pick. Combining these picking strategies can increase accuracy up to 99.9%.
Choose Power Pick Global to:
Increase accuracy
Increase efficiency
Reduced costs
Enhance flexibility
Legacy Software: FastPic Inventory Management Software
The FastPic suite of inventory management software provides high throughput transaction speeds with point and click simplicity. Feature rich supervisory reports, bulk storage management, pick branding, continuous batch picking, plus controlling one or multiple workstations and equipment, including rack, shelving, pick-to-light flow rack, carousels, VLMs and more.
View case studies to learn more about inventory software solutions.
Okuma Warehouse Expands Vertically to Exceed Parts Promise
Efficiency Soars in Automated Warehouse at Zenith Aviation

Contact us for a complimentary assessment of your current order fulfillment process today and we'll help you determine which order picking technology will optimize your application.