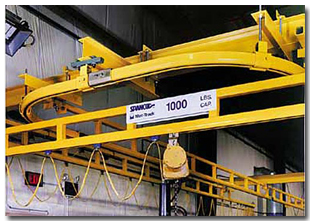 With an overhead warehouse monorail system, the hoist and trolley run on a single stationary beam. The monorail allows two axes of hook movement: up/down and forward/back along the monorail beam.
Because of their inherent speed and efficiency, monorail material handling systems are an effective method of moving and positioning loads to specific locations. They are available in various capacities.
Monorails are best used in applications where materials are to be transported from one fixed point to another fixed location, or through a process.

Contact us for more information.