Warehouse Overhead Equipment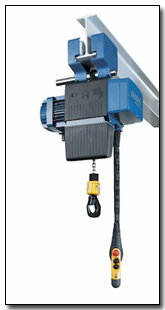 Overhead cranes and hoists have been used for hundreds of years to lift and move materials too heavy to be efficiently handled manually. They can be designed to swiftly maneuver 100 pound loads or delicately and safely transport 100 ton loads.
In some cases overhead handling is used to improve ergonomics in a repetitive work environment, or to service/maintain heavy production machinery, or to support a manufactured operation by lifting and transporting heavy pieces.
Our overhead handling equipment includes:
View additional overhead equipment for warehouses and manufacturing facilities at the

Demag online store.

Click here for more information about overhead cranes and hoists.