February 5, 2018 –
If you had a crystal ball and could predict the future, both in your personal and professional lives, how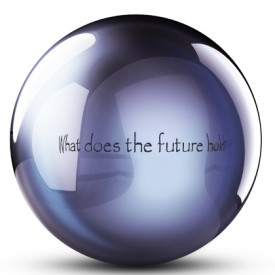 would you use that information? Have you ever asked yourself, "How could I take the insight and experience of what I know now and apply it to the past?" I think we've all thought about this at one point or another and wondered how knowing more could help us do better.
The process of gathering intelligent real-time information to predict service levels and optimization outcomes is crucial today. Think about it; we live in a world where everything we do is on demand from entertainment to automatic delivery of goods and services. So, you've got to go the extra mile to keep up with that expectation.
Consumers drive this new level of consumption by creating a powerful mandate for businesses to manufacture and distribute their products in a timely fashion. The pressure to perform and deliver at a high level is expected. Even small operational hiccups can have a huge impact on customer service experiences and the business' bottom line.
When knowing is more than half the battle, how do you keep your operation up and running efficiently? With the push of a button!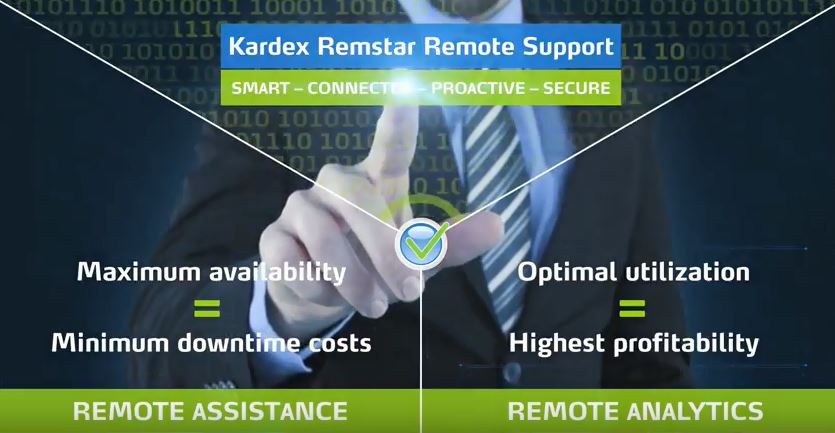 Meet Kardex Remstar Remote Support
This state-of-the-art intelligence platform is a first of its kind in the Automated Storage and Retrieval Systems arena. Kardex Remstar's remote support is broken into two applications with the overall goal to provide a world-class operator and management interaction experience.
Remote Assistance

Fast diagnosis by technicians
Efficient troubleshooting using secure access
Easy push-button assistance
Instant review of logs
Immediately connect with experts

Advantages

Increased solution rate
Maximized uptime
Saves valuable time
Efficient communication
Reduction of downtime
---
Remote Analytics

Utilization and cycle analysis
Customized unit updates
Secure online dashboard
Maintenance intervals based on usage
Reporting of unit effectiveness

Advantages

Increased optimization
Early downtime detection
Gain process transparency
Strategic maintenance planning
Convenient process evaluation
---
Security
The perfect secure balance of performance analytics coupled with user-friendly support ensures your operation is always connected, up and running, and one step ahead of the competition.
Ultimately, having a crystal ball or a way to tell your younger self everything you know now is impossible. But it is possible to have insight and vision into how your most important equipment is functioning. We'd love to tell you more about Kardex Remstar Remote Support and the magic it can make for your operations.