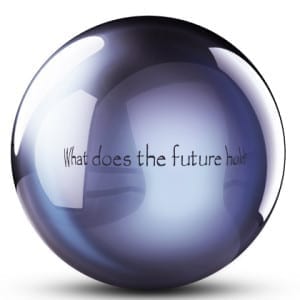 January 14, 2015 –
Fortune teller, psychic, tarot cards and a crystal ball. What do all of these items have in common? Obviously they are all means of "predicting" the future. At one point or another in life, I am sure we have all wished for a way to determine what the future might hold. Are we making the right decision? What if we choose the path to the right instead of to the left? It would be an incredible tool to have at your disposal if you could answer any question by knowing what the future held for you five years from now.
Well, unlike some of the other options listed above, there is something which is currently available which will help you predict the future with guaranteed accuracy. This item would be of immense value to anyone tasked with predicting maintenance and repair costs on their material handling fleet for the next five years.
Picture a forklift maintenance program that covers any and every repair, from wearable items to major repairs, for the full five years of a lease or purchase of a new lift truck. In addition, it covers all periodic scheduled maintenance and the repair of any discrepancies noted during that inspection.
The advantages of such a program are immediately obvious, right? For a low monthly cost per truck, you can predict your repair budget for the next five years. The first monthly maintenance payment is exactly the same as the last monthly payment- no surprises and no guessing. Next year's budget planning for maintenance and repairs is already done. Consistency is the key.
I know, it sounds too good to be true. It surely must be a "money making scam" for the dealership to offer it; just like the car which was only driven on Sunday, by a little old lady, to church and back. But your operation runs your lift trucks hard—every working day and all day long. No little old ladies here…
Be sure to consider all options available prior to purchasing your next piece of material handling equipment. Be prepared to ask the following question:
"Is that crystal ball going to be available on the open market anytime soon? I need to know this week what I am going to be spending in 2017 for my forklift maintenance."
The "crystal ball" is available. It is a Full Maintenance Program for all of your lift trucks.