January 17, 2023 –
The number of options and features can sometimes seem overwhelming when picking the right forklift. However, when you consider the factors below, you'll have a better idea of the best fit for your operations. For this blog, we are primarily focusing on the indoor warehousing side of the forklift world.
Don't hit a fork in the road! These are the top questions to ask yourself to determine the proper forklift for your operations:
What will you be using the forklift for?
Forklifts have a variety of uses, so it's crucial to determine what yours are so you select the correct type of forklift. Are you unloading trucks, transporting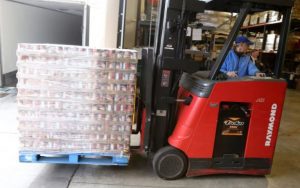 pallets, putting pallets away / picking pallets, or building orders? A simple jack is likely the best option if you are transporting pallets. For offloading trucks, jacks or counterbalanced trucks are likely the right fit. A reach truck or swing reach will fit the bill if you are putting pallets away in narrow aisles. Determining your operational goals and needs is imperative when selecting your fleet.
What are the building requirements?
There are several things you need to think about when it comes to the size of the space required for your forklift to operate. Is it a large or a small warehouse? How much distance is there to travel? How narrow are the aisles? Are there doors or tunnels the forklift will need to go under? These considerations will help you identify the specifications you need to design the right forklift for your environment to avoid hitting a bump in the road (or warehouse).
What are the time requirements?
Will you be using the equipment for multiple shifts? Different forklifts have different battery size options. If you need the biggest possible battery, that will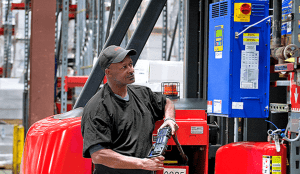 result in additional costs, whereas small batteries will suffice for shorter time periods. When forklifts are required 24/7, you will need special chargers to opportunity charge or multiple batteries so you can swap batteries and use the forklifts non-stop. If you are 24/7 operation and need to change batteries, you may want to include the option of a battery gate interlock.  If the battery gate is not closed correctly, the forklift will not start, rather than the battery being left accidentally unsecured. Beyond that, 24 X 7 operations should explore Lithium Ion as a serious alternative to changing lead acid batteries
Are your operators incentivized?
If your employees are incentivized by their picking times, it helps to set them up for success with the correct models. High-speed lifts get to the loads quicker, and orderpickers have a new technology that minimizes lift times and pick times. Zoning and Positioning (ZaP) options feature an auto-controlling truck function so they can take the most efficient and fastest route to an elevated pick location. As you get higher, the forklift goes slower but continues to travel, whereas ZaP takes this into consideration taking the most efficient route minimizing pick times.
High-speed lift/lower is great to consider if you are trying to make the facility as productive as possible in a tall warehouse, or if operators are incentivized. Another thing to consider is heavy pedestrian traffic and, if you need, blue spotlights that give pedestrians the heads up that the forklift is coming.
Does management want or need telematics solutions?
This is another question to ask that will dictate options. iWarehouse telematics can tell the management team when an operator has an accident, including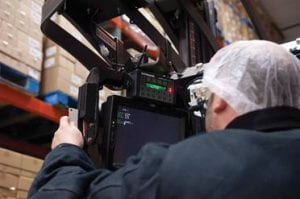 recording the g-forces, records when operators have logged on and off trucks, only allows licensed operators to run a truck and provides productivity metrics. Utilizing a telematics system encourages user accountability, warehouse optimization, and management insight into activities.
Do you need a local electric forklift dealer? We're here to fork over our expertise.
Abel Womack's experienced team is here to help you select the right fleet for your operations. Reach out to one of our specialists today to learn more about how Abel Womack can help lift your forklift game to the next level.