January 22, 2018 –
About 18 months ago, I contacted a small but growing e-commerce company looking to optimize resources and productivity. They provide logistics solutions in handling Kickstarter crowdfunded campaigns and tabletop games, from factory to storage and fulfillment to shipping.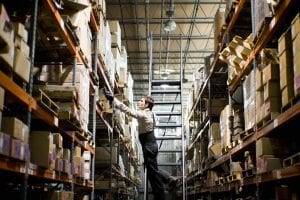 Partners in Improving Productivity
As we built our relationship, I worked with them to find the right equipment and service and, over time, began to look at operations and workflow with them. The company was starting to see bottlenecks in their systems as they got busy during the holiday season. As they ramped up, order picking was bogging them down. It took much too long and proved to be an unproductive use of their workforce as entire pallets often had to be pulled down and put back when they needed to access items to fulfill an order.
We needed to provide them with an optimal solution to reduce handling time and increase both access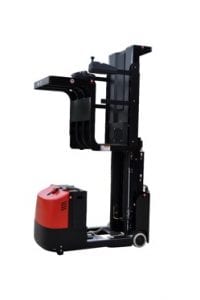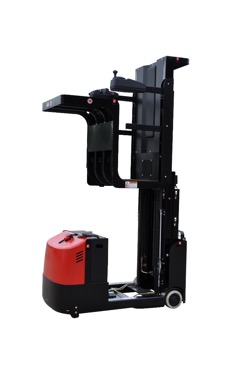 and productivity. I've spent a fair amount of time in warehouses of varying sizes helping businesses find solutions to the challenges of running their day-to-day operations, and realized we had what they need: the J1-TSV, a compact lift truck with order picking capabilities perfect for smaller-to-midsized warehouses. Sometimes changing one element in the process can make all the difference. With this approach, this company would now be able to skip removing pallets from racking and running back and forth with every order – saving time and energy for the worker and increasing their productivity.
Dynamic Demo
During the demo, they purchased the truck before it was even complete because the client could see the J1-TSV provided the immediate solution needed to navigate the narrow 9' 6" aisles. The truck can lift the operator up to 190" so items could be picked and placed on the front tray, alleviating the need to remove entire pallets for one or a few pieces. They knew it would benefit their employees, significantly reduce labor costs, increase productivity and fit within their budget. Overall, this was a savvy investment that exceeded their expectations.
Making positive impacts on the operation of a business is my favorite part of my job. Since we approach every client the same way, as problem-solvers and partners, we can support their success. Having that experienced consultant can help any business, large, medium or small, find the right material handling equipment or warehouse solution to thrive, even during your busiest season. Do you need us to stop by your warehouse today?
Click here for more information on the J1-TSV.