January 7, 2019 –
If you're constantly having to swap or replace the batteries in your pallet jacks and forklifts, we may have the answer – and it isn't another battery. It's powered by a partnership designed to save you time and money. 
Keep Your Forklift Batteries in Prime Condition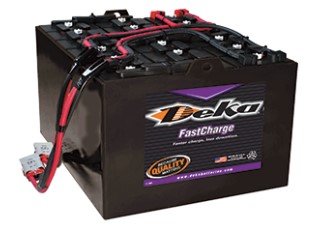 Making sure your forklifts work when they need to is crucial since they drive your success. Our partner, Bjorkman Industrial Power, offers a free review of your all batteries including age, if they are being charged and watered properly, and overall condition. This assessment includes a full report on battery efficiency and ongoing maintenance for your entire fleet. This data can then be used to increase workforce productivity and plan for replacing batteries or equipment (or both) on a timeline that works for your business.
Fast and Opportunity Charging
Do you really know what is happening with your batteries? Why are they burning out prematurely? Maybe it's because conventional charging isn't right for your application. Maybe opportunity charging is. With a free battery survey, we can eliminate the guess work and help determine what makes the most sense for you.
If you've been thinking fast or opportunity charging could be a solution to burning out or swapping your batteries all the time, seriously consider a free assessment. Opportunity charging allows batteries to be charged at several intervals during a shift. And no more battery swapping means less downtime. Who doesn't love that? But this will require some infrastructure changes in your warehouse and we're here to help you with that and determine if opportunity charging is the way to go.
If you're not sure if this makes sense for your facility, talk to your material handling specialist to see if an assessment can help find the problems with your battery performance and solve them. The best place to start is with a profile of your batteries, their use, and the forklifts to see whether fast or opportunity charging makes sense for you. The data can reveal exactly what is draining or damaging the batteries and how you can problem-solve for your facility.
Battery Monitoring for All Kinds of Charging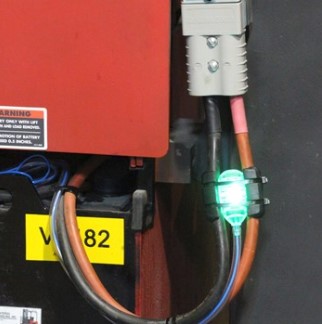 A new intelligent battery monitoring technology like SmartBlinky Pro uses both light and sound so your battery can tell you when it needs water. The audible alarm and highly visible LED light alert you when a battery needs to be watered. This will help to prolong the life of your battery. SmartBlinky Pro is ruggedly built to stand up to the sometimes-harsh conditions of industrial battery situations. Plus, they are quick and easy to install. Knowing that batteries also need maintenance to be kept functioning at peak performance, Bjorkman also offers battery cleaning for a fee.
Leading the Charge
Services like these allow you to effectively manage your fleet right now and better plan for your future. They are just one of the benefits of building relationships with your material handling partners. Whether you need batteries for your forklift, more storage for your warehouse, or an automation plan, please contact Abel Womack today to learn how we can help you build value in your business.