September 4, 2018 –
Good news! Business has been booming, and you've outgrown your warehouse: so, now what? Growth doesn't have to mean relocation or constructing a new building. We've got four ways you can dramatically impact your storage capacity when you think you are outgrowing your current facility. 
Convert to Very Narrow Aisles
Like the name says, very narrow aisles (VNAs) reduce the size of your aisles by up to half, down to 6-feet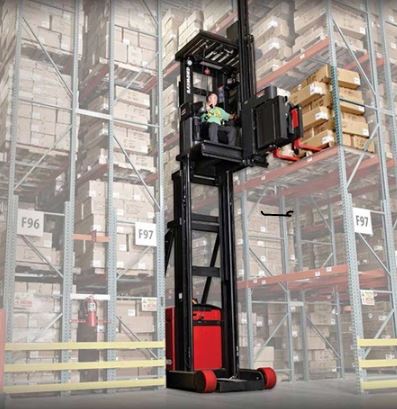 wide. This can double your warehousing space and reduce the dead air in the building while staying in the same footprint. Once this kind of smart space utilization is put in place, wire-guided vehicles like the Raymond Swing-Reach Turret truck will safely move product around the warehouse using pre-planned floor guides. This carefully coordinated system helps reduce the space needed to navigate but doesn't sacrifice on safety or potential pallet damage. Another byproduct of implementing VNAs is increasing pick faces and accessibility of selections, so don't be surprised if you also see pick productivity ramp up too. 
Raise the Roof on the Building
This one may seem a little extreme but hear me out. If you can't build out, why not build up? No matter where you are located, it's likely that land is at a premium. By building up, you'll increase the value of your building and fit more customized storage into your existing building's footprint. You'll be able to maximize your cubic space because you can plan around pallet size and volume. The cost savings over building or relocating (and skipping the related downtime) is significant and, in many cases, you can continue operating right up until the day of the roof-raising. It's more common than you may think and there are companies who specialize in exactly that.
Utilize Dense Storage Solutions
Bulk floor storage is one of the most economical forms of storage available, but you risk product damage if it's stacked too high, plus it limits SKU selectivity and access. Other options to cost-effectively add space to your warehouse include push back pallet racking, drive-in/drive-thru, and high-density pallet storage.
Push back pallet rack system uses nested carts installed into a pair of inclined rails so when one pallet is removed, the others move forward. If your warehouse is built on LIFO, this might make sense for you. But it does mean that you can pick and replenish from only one side.
Drive-in/drive-thru racking allows you to take advantage of vertical height in your storage but does require specific trucks to utilize and limits SKU selectivity.
Radioshuttle storage maximizes space with customized designs based on a deep lane system of storage – sometimes up to 70 deep. If your warehouse has vast numbers of SKUs and requires FIFO, this method might work best for you. It's becoming a very popular technology and has great ROI when applied correctly.
Use a 3PL for Some of Your Fulfillment
Third-party logistics (3PL) may offer you a contingency plan as you determine the next step to take from the list above. Using 3PLs means you can expect little to no disruption in your warehouse. It allows you to focus on your core business as you scale up to meet the demands of your customers. The catch? It can be costly when compared to new racking; however, it can offer you access to new markets and offers resources beyond storage. With this value-add, it's worth considering 3PL storage as a dynamic and scalable space for your business.
Each one of these solutions is completely customizable to your warehouse, and can be combined in a way that makes the most sense for the growth of your business. If you're unsure which warehouse storage solution option to choose, an experienced material handling specialist can provide a free analysis of your needs and help you to make an informed decision.