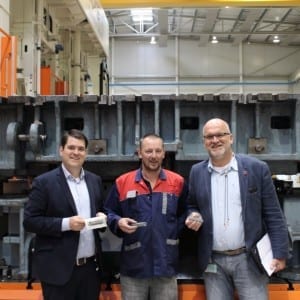 Click here to view original web page at www.voestalpine.com
Around 4,000 different several-ton press tools are used at voestalpine Polynorm BV in Bunschoten, Netherlands. These tools allow the specialist for exterior car body parts to precisely meet the many requirements of its premium customers. Thousands of press tools have to be brought punctually from the warehouse to the presses and back, without delays. In the past, warehouse management was mainly a manual process consisting of handwritten paper logs—an error-prone and time-consuming process. Therefore, a decision was made to replace the manual system with an RFID warehouse management system using barcodes.
The RFID team from Bunschoten achieved groundbreaking results (from left to right): Volker Ruitinga, Peter Altena, and Bert Koelewijn.
What is RFID?
RFID stands for radio frequency identification. It is a technology that makes it possible to use magnetic fields or radio waves to identify and localize objects equipped with transponders (RFID tags). The use of mini, battery-free (passive) tags enables cost-effective mass deployment, such as for anti-theft applications and in payment and identification systems.
Challenging application
RFID technology had not been used before because the huge quantities of metal stored in Bunschoten made it difficult to use radio-frequency identification. The interference and overlapping radio frequencies posed great challenges. They made is practically impossible to uniquely identify individual tags over a large distance. During the one year development and test phase, however, the team succeeded in implementing a system with a sufficient range of 15 meters (the maximum height of a warehouse crane). New receivers and RFID tags also had to be developed especially for this application. The experiences with RFID in the Linz steel mill were a great help.
8,000 tags in use
In Bunschoten, up to 8,000 transponders were installed—on the top or front of each press tool. Transmitters installed on the loading cranes "contact" the RFIDs and transmit the data indicating where and when the press tools will be used and where they are stored to a database so that the information is available in real time. This helps increase machine availability and enables more precise execution of logistical operations.
Similar Posts