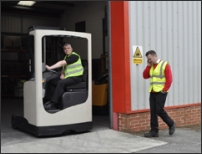 Click here to view original web page at www.shdlogistics.com
An innovative, new safety awareness course from Mentor Training focuses on the dangers presented by forklifts in the workplace – not just for operators, but for all those working alongside them.
Specially developed by Mentor – the UK's biggest national training provider in the materials handling industry – Safely Working with Lift Trucks is a high-impact, low-cost training course which promotes a safe working environment by targeting the behaviour at the root of bad practice.
At just two hours in duration, the course is hard-hitting but concise, meaning up to 30 delegates in one day can benefit and at minimal cost to businesses.
The course targets anyone on-site whose work involves fork lift trucks – be they operators, supervisors or staff working in close proximity.
According to HSE figures, pedestrians are just as at risk as operators, if not more so. Mentor Managing Director Stuart Taylor explains: "60% of those injured by fork lift trucks were 'on foot' at the time of impact. Unlike operators, many working alongside forklifts are unaware of the risks they pose and, more importantly, how to reduce them."
This lack of awareness and a complacent attitude towards safety are at the basis of Mentor's new course. Whilst acknowledging that many of the duties undertaken by workers on and around forklifts can be highly repetitive, it draws attention to the danger of allowing bad habits and complacency to become sustained bad practice and unsafe behaviour, and reminds delegates of the potentially dire consequences for themselves, their colleagues and their company.
Stuart explains: "Whether working at a factory or warehouse, shipping depot or construction site, many of the duties undertaken by workers on and around forklifts are highly repetitive. These types of tasks can result in lapses in attention and a decline in proper working procedures.
"Worse still, if left unchecked, these bad working habits can quickly spread through a workforce, creating a workplace where dangerous behaviour is the norm. So it is imperative, for the health of the workforce and the site, that a safe, positive working culture is cultivated and maintained.
"Even trained and experienced forklift drivers can overlook the dangers and fall into bad habits. Our new Safely Working with Lift Trucks course refocuses everyone's attention: ensuring that everyone on site is aware of the hazards presented by forklifts, as well as the safety, practical and financial benefits to be gained by upholding safe working practices.
"To maintain a safe working culture, the whole workforce must be part of your training plan. If everyone is on the same page, and has the same positive attitude towards creating a safe environment – be they pedestrian worker, forklift operator, or manager – you will see lasting results; to morale, safety and productivity."
Article Images Click an image to enlarge