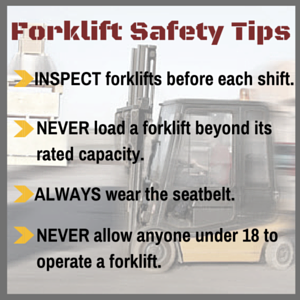 Click here to view original web page at safety.blr.com
Every year more than 100 people lose their lives in forklift incidents, and thousands more are injured. Forklift tipovers are the leading cause of fatalities involving forklifts, representing about 25 percent of all forklift-related deaths, according to OSHA.
For a Limited Time receive a FREE Safety Special Report on the "50 Tips For More-Effective Safety Training." Receive 75 pages of useful safety information broken down into three training sections. Download Now
Today is National Forklift Safety Day, sponsored by the Industrial Truck Association. The day serves as a focal point to highlight the safe use of forklifts and the importance of operator training.
Common forklift problems that lead to worker injuries include:
Failure to provide or inadequate operator training
Failure to conduct regular inspections before operation
Defective equipment that is not taken out of service
Driving in an unsafe manner
Failure to provide or ensure use of seat belts.
Forklift operator safety tips
Raising operator awareness and providing safeguards can help ensure that your workplace does not experience a forklift fatality. Here are a few reminders for operators to help keep all your workers safe and your organization off OSHA's radar:
Inspect forklifts before each shift.
Never load a truck beyond its rated capacity.
Always wear the seat belt.
Slow down and sound the horn at intersections or other location where vision is obstructed.
Never allow anyone under 18 years old to operate a forklift.
Ensure that only trained and certified forklift operators are allowed to operate the equipment.
Forklift operator training resources
BLR has many resources to help you set up an effective forklift safety program and train your operators. Click the links below to see a sample of our offerings.
Toolbox Talks:
Complete list of BLR forklift operator training resources: