Download Mini Load Brochure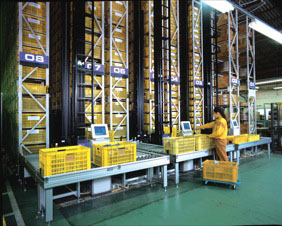 Daifuku's mini load is a high-speed, high-density buffer that can replace conventional static rack to maximize vertical storage space within a compact footprint. The mini load moves and stores irregularly shaped goods or parts placed in: stacking totes, collapsible totes, nesting containers and case/cardboard boxes.
Items are transported to/from the mini load by conveyor, Shuttle fork, Side belt, Side Clamp, Sorting Transfer Vehicle (STV) or Automatic Guided Vehicle (AGV).

Contact us for more information on Daifuku's mini load equipment.