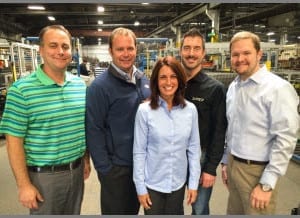 Click here to view original web page at www.mheda.org
Connections Conference
Networking > More Networking Resources
Half-Day Conference at ProMat 2015
March 23, 2015 - 11:30 a.m. - 4:30 p.m.
McCormick Place South - Room 404 BC
New in 2015! A MHEDA-NET Conference designed to help you connect with your customers, your team and your peers
Registration Fees:
$99 Members before February 13
$129 Members after February 13
$299 Non-Members
DESCRIPTION
Join MHEDA for an afternoon of interactive learning and sharing with other MHEDA-NET members. If you are not a MHEDA-NET Member, you are also welcome to attend and see what the buzz is all about. Includes presentations, panel discussion, roundtables and lunch.
PRESENTATION
Customer Connections: Selling in the Information Age
Presented by Richard Farrell, Tangent Knowledge Systems
In today's Internet era, companies benefit greatly from being more problem-centric than solution-centric. If your customer has no problems, you have a big problem, and have very little to sell other than price. Unfortunately, too many companies are putting the cart before the horse; they push their solution before understanding the customer's problems. This results in lower margins, higher cost of sales, longer selling cycles and a lack of consistent predictability in forecasting sales.
What will you learn?
New ideas to sell in this environment
How to position your offering based on how you solve problems as opposed to how you provide solutions
How to better qualify opportunities and differentiate yourself from your competition
About the Speaker
Richard P. Farrell is President of Tangent Knowledge Systems, a Chicago sales training company. His in-depth knowledge of the sales challenges of small to midsize companies (commoditization, price pressure, new market opportunities, transactional selling, poor sales accountability, unqualified sales pipelines, ineffective new business generation, long selling cycles and increasing cost of sales) is unparalleled.
PANEL DISCUSSION
Team Connections: Bridging the Generation Gap to Improve Culture
Presented by the MHEDA-NET Group "The Pacesetters"
Attracting younger generations to Material Handling and combining the younger and seasoned generations are challenges facing all businesses today. It is imperative for businesses to understand what attracts each generation and how their needs can be very different. For long term success, businesses need to look for new ways to build a culture that fosters growth opportunities for all generations and provides career and personal motivation for employees. There are many ways to do this including Employee Career Development, Mentoring, Team Building and Wellness Programs. These types of programs will allow each generation to contribute to overall company success and bridge the gap between generations. Be sure to join us for our panel discussion to learn how to connect different generations.
About The Pacesetters
The Pacesetters MHEDA-NET Group was founded in 2013 by a group of Emerging Leaders that were eager to create a unique, fun and dynamic work environment both in their organizations and in the material handling industry.
Pictured from Left: Eddie Murphy, SpaceGuard Products, Brian Neuwirth, UNEX Manufacturing Inc., Josh Smith, Wholesale Pallet Rack Products (WPRP), Adam Wray, Nashville Wire Products, Center: Linda Anlauf, Wholesale Pallet Rack Products (WPRP)
Peer Connections: Network with Your MHEDA Peers
Roundtable Discussions - Discuss challenges and hot topics that matter most to you and learn how others in the industry are handling the same issues.
Networking Luncheon – Enjoy a networking lunch before the Conference gets started.
Cocktail Reception – MHEDA is sponsoring a FREE Networking Reception immediately following the Connection Conference. This networking event is an informal gathering of MHEDA Members and prospective members. Complimentary Beer, Wine and Soda will be served. This is a great opportunity to network with other industry professionals. Please make plans to join us and RSVP Today!
If you have any questions about this program or any other MHEDA events, send us your questions or comments at connect@mheda.org or call us at 847-680-3500.