December 10, 2018 –
If your warehouse or distribution center is beginning to run out of room, you may have started dreaming about ways you can build or add on to your existing structure. But, before you call the architect and have plans drawn up, consider adding a warehouse mezzanine. A mezzanine floor allows you to expand your space as you build up (not out) to make the best use of your existing footprint and equipment.
Benefits of Adding a Mezzanine in Your Warehouse
Mezzanines are flexible elevated work areas that can be used for office space, storage, or break rooms for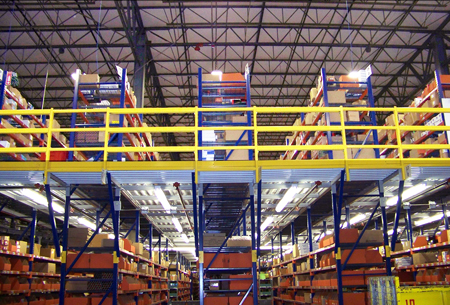 employees – and much more. They easily fit into your existing facility and are fast to install and put to work. Modular options offer easy assembly and incredible flexibility so you can make changes as your business evolves, And, once you do need to relocate to a larger space, the mezzanine structure can move with you.
A mezzanine is perfect for storage of low-volume items or seasonal goods that don't require constant access. The floor underneath can then be upgraded to include additional production or storage as well. Food-grade mezzanine storage is ideal for refrigerated storerooms or freezers where space is at a premium, or you need a floor that can be easily sectioned off, maintained, cleaned, and inspected.
Increase Efficiency with a Mezzanine
You may be thinking you have to choose between a mezzanine or Radioshuttle storage system to increase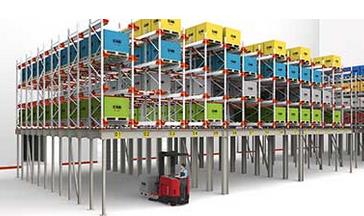 productivity in your building. You have an option that can maximize the value of your square footage: adding Radioshuttle on your mezzanine. This requires a heavy-duty steel structure but offers the maximum in storage solutions with up to three levels.
Adding a mezzanine doesn't necessarily mean adding new equipment. In fact, the forklifts you have may be a great fit if they meet the capacity and load requirements of the items stored.
Things to Keep in Mind Before You Add a Mezzanine
Before you start measuring, there are a few factors to consider including permitting, weight limits, and access. On top of any structural determinations for the weight of your products, you'll also need to plan if you will use conveyors, stairs or a lift to reach the mezzanine. Use will often dictate the most practical accessibility solution. If you only need to store overflow, seasonal goods, or bulk items, then you can probably plan for stairs but bear in mind that this may slow picking or limit worker access. Don't forget to factor in items like safety gates, cages, and railing to help prevent workplace accidents.
Increasing storage without the costs and headaches of an addition sounds too good to be true, but the magic of a mezzanine is that it gives you two spaces from one allowing you to grow to meet the needs of your business. If your business needs to expand production or storage but moving to a new location is a couple of years away, now may be the time to look at adding a mezzanine. The ROI is usually quite compelling. A material handling expert can help you determine if a mezzanine is a good fit for your needs and devise short or long-term, adaptable solutions to help you effectively optimize your space.