June 30, 2015 –
Unused vertical space drains your company's bottom line by limiting the value of your existing facilities. Adding a mezzanine utilizes overhead space and can result in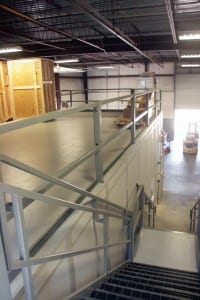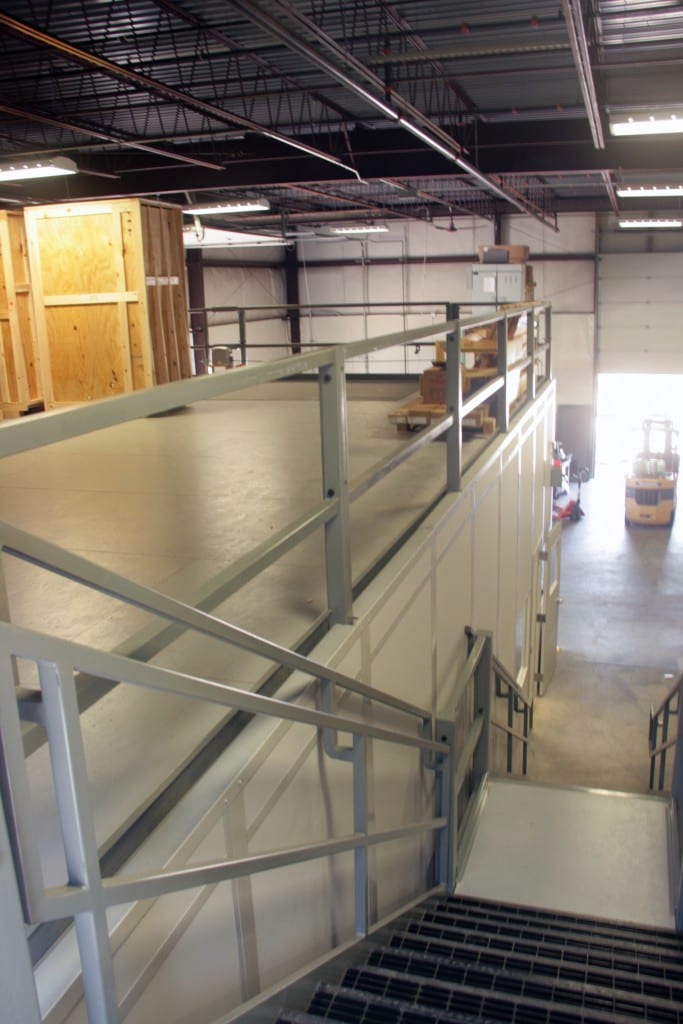 huge savings compared to the traditional alternatives.
New construction or moving to a new location is expensive and disruptive to facility operations. Instead, mezzanines can double or triple the available square footage for equipment storage, modular in-plant office buildings, materials inventory and more.
Steel mezzanines and equipment platforms are custom engineered and manufactured to meet your exact needs, and designed to be free standing and self-supporting. The versatility of a mezzanine system knows no limits. Mezzanines can be used in so many different capacities and applications they could never all be listed. From distribution centers and malls to manufacturing plants and opera theaters, mezzanines are found everywhere.
Expand Storage Space Without Tearing Down Walls
Adding a mezzanine can be the most cost-effective way to increase building space without the cost of a conventional building expansion. The pre-engineered, low maintenance, modular systems are flexible enough to easily reconfigure, relocate or reuse when changes occur in your organization.
Advantages of a Mezzanine:
Installation is quick, clean and easy.
Custom designs fit any existing building layout and budget.
These can be temporary or permanent structures.
If you move to a new space, you can take your mezzanine with you.
Limitless Applications
Mezzanines allow you to better capitalize on a building's square footage. The open structure provides a multitude of functions, with no limitations as to how the space is used, such as:
Work platforms
Supplementary office space
Break Rooms
Warehouse storage
Conveyor and support platforms
Production and manufacturing space
Leased spaces
Steel mezzanines can be customized to your specifications by integrating capacity ratings, flooring and stairs design options like security cages, vertical lifts, and so on – the space is yours and the possibilities are limitless. Click here to take a look at some of the detailed options available for your customized space.
Things to Consider Before Incorporating a Mezzanine
First, you must consider if this is a practical solution for your facility. A quick way to determine if this is your best option is to ask yourself:
Are we potentially building or moving to a different site within the next five years and need a temporary space solution?
Do we need more space but can't afford to relocate or shut down?
Is our business ever-changing and need a system that can be reconfigured several times?
Do we have vertical space not being fully utilized?
If you can answer yes to any of these questions, than a mezzanine might be the perfect fit for your facility. Because mezzanines are not an original part of a building's structure, there are challenges to consider when developing the design. Chief among the considerations for the design is column placement under the platform. Naturally, the more square footage the mezzanine has, the more columns needed to support the platform.
Other items to consider include:
stair placement
columns placement
fire sprinkler system
lighting
heating & ventilation systems
interference with doors or windows
is the existing building capable of supporting the floor load
clear height in the building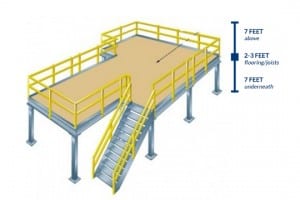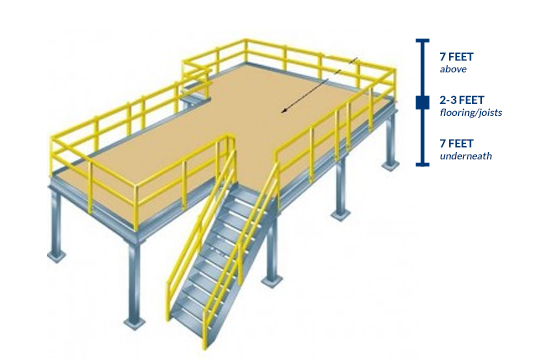 A clearance of at least 7 feet above the platform and 7 feet underneath the platform are required. This means that in addition to the joist and floor height, you must have at least 14′ 6" of clearance for a mezzanine structure to work in your space and still meet code.
Builder codes often dictate how a space can be used, which can vary from town to town and state to state. Abel Womack works with you and design engineers to help you secure necessary permits to ensure you comply with building codes.
Maximize Your Investment
With Abel Womack, we inspect your space thoroughly and make recommendations based on your specifications. Once we develop a customized design to fit your needs, we provide nationwide support and installation services. As a trusted partner, we understand the desire to maximize your space, and we will work with you to devise a long term, flexible solution to help you effectively utilize your space. The ROI is usually very compelling.