October 17, 2022 –
Storing product is expensive. Whether the product is in a distribution center or manufacturers' warehouse, the rising cost of labor, equipment, utilities,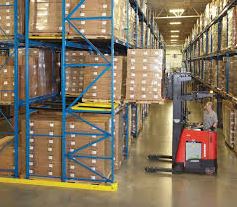 maintenance, and taxes make every square foot of space more valuable than ever. Therefore, utilizing available space to the fullest has become the primary focus of many operations leaders. If it is possible to increase storage capacity by somewhere between 10% to as much as 50%, it is well worth considering when comparing the cost of these approaches vs. add offsite warehousing, building expansion or a new greenfield warehouse.
Luckily, there are several effective solutions to assist in maximizing that space. Let's look at a few of them.
6 Space-Saving Solutions
We will assume an existing warehouse is using sit down forklifts, has ten 14-foot-wide aisles, storing palletized loads in standard single deep racking. Let's compare some common solutions and how they can increase total pallet capacity.
The Cost of Space
Keep in mind, there are limitations to each of these options, which need to be considered on a case-by-case basis. Additionally, there are many other solutions available, including those for less than full pallet storage, like shuttles and carousels from Kardex, and fully automated solutions like those offered by Bastian Solutions. Partnering with an experienced material handling solutions provider like Abel Womack will ensure that you take the right path when improving your warehouse and increasing your storage capacity.