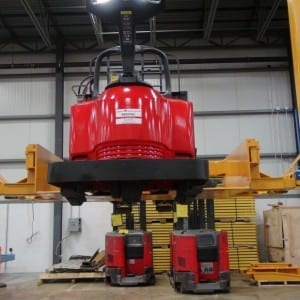 February 23, 2015 –
When's the last time you saw an automotive repair center that didn't have a lift? Probably sometime in the 1970's. Yet, the lift truck industry has been repairing trucks on the floor forever… how archaic for such a big business. How can we explain in 2015 that we expect our service technicians to work on their backs or their knees on a concrete floor- somehow muscling their way through inspections, lubrication and repairs? It's like watching an old newsreel.
Well, Abel Womack has co-developed the TechMate– a service lift designed for the most common electric trucks- reach, orderpickers, pallet jacks, and with optional ramps, counterbalanced. The designer of the lifting posts is PKS from the Toronto area- a longstanding supplier of lifts for autos, buses and trains. Together, we developed the special lifting plate that connects to their lifts and will forever change the maintenance landscape.
Now, your techs can drive your lift trucks onto the service lift, elevate it to a good working height and inspect/repair to their hearts delight. It will absolutely energize your techs, speed up repair time and potentially reduce workmen comp claims. I mean, who wouldn't rather work at eye level than lying or kneeling on a concrete floor?
But even for those brave souls that are willing to work on the ground, they still need to somehow lift many type trucks to work on them. Look at pallet jacks, for instance, the most widely used truck in the industry. Since most of the action occurs under the forks, and the forks can't be elevated more than a few inches, your technicians have to somehow lift them to get at them. So how do they typically do that? Well, here are the two most common ways- lift the jack with a hoist and chain (against OSHA rules) or lift and turn the jack on its side with a forklift (also against OSHA rules). It's absolutely ludicrous that we haven't previously addressed this problem.
Well, here it is. TechMate… introduced to North America right now by Abel Womack. We genuinely believe 'it will become your maintenance department's best friend'.
My friends … it's your move!