Charged with cutting waste, many fleet owners are finding battery management practices have plenty of room for improvement.
The past year was a good one for sellers of battery monitoring solutions of all kinds, which isn't terribly surprising. In the wake of broad telematics adoption, a sharper focus on batteries is the logical next step. Telematics and detailed fleet management often followed a crawl-walk-run pattern from simple impact monitoring, to utilization tracking, to operator accountability. Solution providers and their users learned a lot about how to bring data together, how much is too much, and what to do with the information. Getting control of batteries is a similar journey with many of the same lessons, as fleet managers work to establish the same granular visibility into battery assets.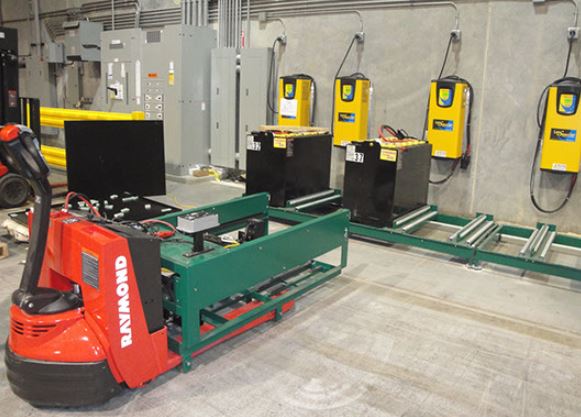 For most, the addition of any visibility is a start. Batteries are chronically mismanaged, a legacy stemming from the perception that lift trucks are a necessary evil, a means to the more important end of getting product out the door. Lean thinking has helped streamline the movement and usage of resources from labor to raw materials to operational data. However, many lift truck fleets still burn through power with reckless abandon.
"Nobody ever got fired for having more batteries than they needed," says Harold Vanasse, vice president of sales and marketing for Philadelphia Scientific. "If I were a battery manager, I don't ever want to say to the boss, 'well, we didn't move enough product, but I saved you money on batteries.' When they get visibility into the battery room, however, there is amazement at what they can see that they never saw before. Is it any different than the visibility you're getting from some of your more expensive operations and assets? No. The battery room is just one of the last areas of innovation in the warehouse ecosystem."