April 19, 2021 –
Lithium-ion batteries are certainly not new. In 1991, Sony introduced the first commercially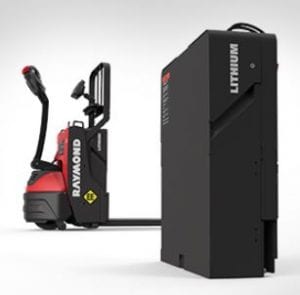 available lithium-ion battery to run camcorders and portable CD players. But they are still fairly new to the electric forklift industry. These batteries are now available directly from many forklift manufacturers, including the technology juggernaut, Raymond Corporation. So, is it time for you to invest in this new offering? Let's look at some reasons you should consider this powerful technology.
Safety first
We've all heard the stories of the lithium-ion batteries in mobile phones catching fire.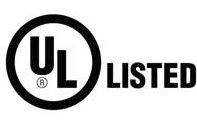 It's a scary thought, and there is a remote risk that an issue could arise. However, if you walk upright and are over 10 years old, you probably still carry a mobile phone everywhere you go. Why? Because safeguards  are added into the phones to prevent these issues from occurring by managing the battery. These same safeguards are present in lithium-ion-equipped forklifts. Additionally, some electric lift trucks, like those available from Raymond, are UL listed, ensuring they meet all fire and safety requirements.
So, why are these batteries not commonplace in warehouses and factories? It's simple…price. These forklift-specific batteries are still in their infancy which means the price is higher than traditional batteries. How high? Depending on the battery size, lithium-ion batteries will typically cost 60% to 70% more than their lead acid counterparts. However, depending on your operations, the ROI may still be there for you, and here's why.
Take charge
Let's consider a company adding a second shift. A lead acid battery on a standard charge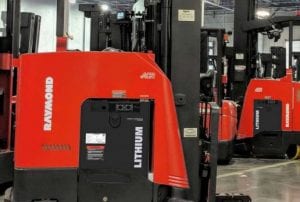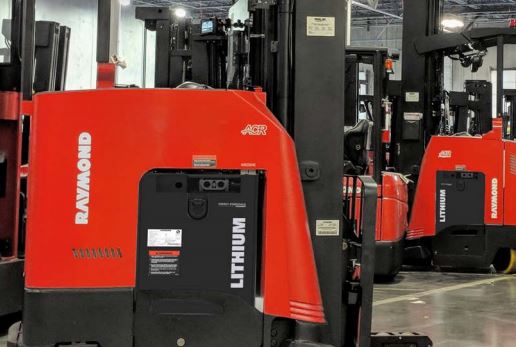 cycle won't make the cut. Lead acid batteries take eight hours to charge and require eight hours of cool down. You can upgrade to opportunity chargers, but lead acid batteries aren't the best candidate for that. The  process reduces the lifespan of the battery and your charge rate is limited to 25% of the battery's ampere hour capacity. In contrast, lithium-ion batteries not only love opportunity charging, but they also love fast charging at rates of 50 to 60% of the battery capacity. That means discharged batteries can be fully recharged in as little as two hours. Add several minutes on the charger at breaktime and it can gain the operator an hour or two of use. This may eliminate the need for additional lift equipment, spare batteries, battery changes, and a battery room.
Increasing efficiencies
Then there's maintenance. Lithium-ion batteries are completely sealed and require no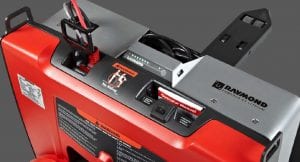 watering, which can be a significant labor savings. There also is no risk of exposure to sulfuric acid like there is when watering lead acid batteries.
Lifespan also should be considered. Lead acid batteries are generally expected to provide 1,500 charge/discharge cycles. Lithium-ion batteries offer twice that at 3,000 cycles. Raymond's lithium-ion batteries offer up to 6,000 cycles due to their proprietary cell design- that's 7-10 years of life! If you expect to operate a lead acid battery for four to five years, you can expect to pretty much double that with LI.
Lithium-ion batteries also produce no gas when charging. This eliminates both the need for a battery room ventilation system and any potential safety issues related to battery gassing.
Lastly, lithium-ion batteries offer higher voltage than lead acid which equates to more power and faster speeds. They also accept regenerative recharges from the forklifts more readily.
Make the move
Although the cost of lithium-ion technology is still a bit high, it is a great solution for many companies. A thorough ROI analysis with a material handling professional may prove that lithium-ion is not the battery of tomorrow, but rather the battery for today.