April 18, 2022 –
Automated storage and retrieval systems, specifically vertical lift modules (VLMs) and vertical carousels (VCs), are an important addition to your manufacturing facility or distribution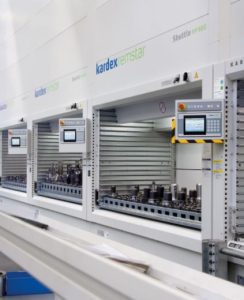 center (DC). In each type of facility, they perform different primary roles.
For a manufacturing facility, its primary role is the storage of dies, tooling, spare parts, or raw material. For a DC, its primary role is in the storage of SKU's, kits or finished goods items, and the picking of your orders or kits. Whether we're talking about a VLM or a VC, the investment in these pieces of equipment needs to be financially justified.
Here are the five most common ways to financially justify this equipment for your facility and your unique operation.
Reclamation of floor space
Whether we're talking about a manufacturing facility or a DC, floor space is usually at a premium. In a manufacturing facility, the reclaimed floor space can be used for the purchase of more revenue-generating equipment or machinery. In a DC, reclaimed floor space can be used for the introduction of more SKU's or to bring on a new line of products to sell.
Here is an example of a recent survey conducted within a DC as to the potential floor space savings.
The customer had 342 bays of shelving that measured 36" wide x 18" deep x 84" tall that was used to store their product in cardboard totes. Each bay of shelving contained 7 shelves and each shelf held 4 totes.
342 bays x 7 shelves x 4 totes = 9,576 totes (8.5" x 18" x 7")
Total square footage of their "Shelving Storage Area" is 7,137 Sq. ft.
We looked at VLMs for this application. Based on the number of totes needed to store, it would take 3 VLMs to store all the totes. Even when I take into consideration an 8-foot work zone in front of the VLMs, the VLM solution would still take up only 840 Sq. ft. of floor space.
The customer is saving (7,137 – 840) = 6,297 Sq. ft. with this VLM solution. For what could you use that reclaimed space?
Labor savings
Manual picking out of static shelving typically yields picking rates of about 50 lines per hour. In an eight-hour day, including breaks and lunch, there are usually 7 productive hours per day. If I'm picking 50 lines per hour for 7 hours per day, the average picker will yield 350 lines picked per day. If I need to pick 2,500 lines per day to satisfy demand, then I would need (2,500 lines / 350 lines per day per person) = 8 pickers per day to pick the orders to meet my current demand.
VLMs and VCs when set up with pick lights and batch picking typically see productivity rates around 200 lines per hour. During that same eight-hour shift (7 hours of productivity) each picker will pick about 1,400 lines. To pick those same 2,500 lines per day, I would need (2,500 lines / 1,400 lines per day per person) = 2 pickers per day to pick the orders to meet my current demand.
At a fully loaded burden rate of $40,000 per year times the 6 pickers they are saving with the VLMs, this customer is saving $240,000 per year in labor alone.
Ergonomics
Picking from shelving or racking requires you to either reach up above your shoulders to pick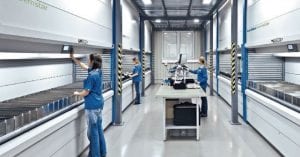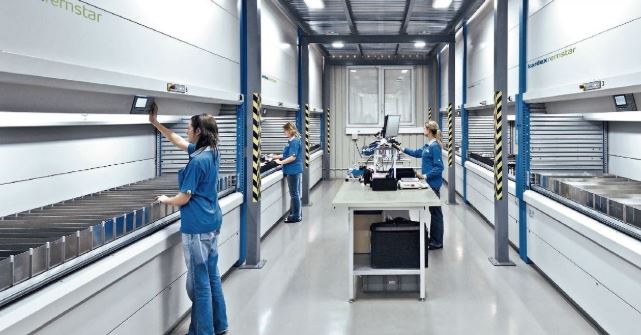 from the top shelf or bend down to pick from the lowest level below your knees. VLMs and/or VCs are a true goods to picker solution where product is delivered to the operator at waist height for every pick or replenishment to the machine. Injury claims and lost time from on-the-job injuries wreaks havoc with a facility's productivity and potential staffing issues.
You would have to fill in the blank as to the cost of a work-related injury, but needless to say, it would be expensive.
The ergonomic delivery of product to waist height by the VLM and VC not only decreases job related injuries but by the nature of making the job easier for your employees, it increases operator moral and employee retention.
Security
Many companies put up fencing to secure high value products. These VLMs and VCs are very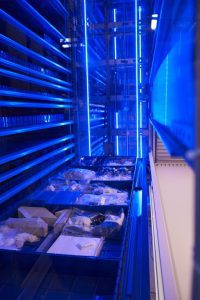 secure storage units as they literally store your items within a sealed metal box. If you want the utmost in security and traceability, then adding software to these units not only secures the products but limits access to only authorized users and keeps track of all transactions per user and part number.
Cleanliness
Sometimes due to the manufacturing process or simply by the nature of the environment within the facility, product gets dirty. In instances where product needs to stay clean, VLMs and VCs can assist with that effort. Sealed from the environment, both units keep common dust, dirt, and cardboard particulates off the product. VLMs and VCs can be equipped with HEPA filtration systems to provide a much higher level of cleanliness and environmental control.
Automated storage and retrieval systems, in particular VLMs and VCs, are designed to aid companies with their operations by reducing the footprint of their stored items, decrease the labor needed to pick their orders along with improved ergonomics, safety, and cleanliness.
Is a VLM or VC right for you? Ask one of our specialists to review your application to see if they are a good fit for your operation.