February 8, 2021 –
At Abel Womack, we pride ourselves not just on our team of material handling experts and technicians but on offering a clear picture of the employees that make Abel Womack a great place to work. From veteran service experts to our newest field technicians, each member brings their experience and personality to the team.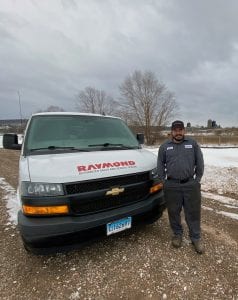 This month, we highlight Steve M., a field service technician who has been with Abel Womack for just over two years. We talked to him about his prior experience, what he has learned since joining Abel Womack, and what he enjoys most about his job.
Q: What's your background?
A: I come from an automotive mechanic background. I worked as an auto mechanic for over five years, mostly used cars.
How much experience did you have working on material handling equipment before you started?
Previous to starting my career at Abel Womack, I had zero material handling experience.
What training and certification did you receive that you would recommend to other technicians?
Before working at Abel Womack, I held several ASE (National Institute for Automotive Service Excellence) certifications. However, in the material handling world, these certifications do not carry much weight. Once I entered into the material handling business, I was enrolled in several in-house classes right here at Abel Womack at no personal expense. With that said, I would recommend any hands-on automotive, marine, or maintenance experience, and many other skill sets will get you where you need to be in this field.
What types of equipment do you work on?
I currently work on everything from the small manual hydraulic pump jack all the way up to the heavy-duty infamous side loader. Upon first starting my career at Abel Womack, I worked mostly on Raymond electric forklifts. In just a short and fast two years, I am now working on ALL types of electric forklifts, as well as propane and competitor brands.
Did you need special training for any specific equipment?
I did not need any "special training" to work on any specific brand or equipment type. Here at Abel Womack, there is an extensive amount of in the field, hands-on training with highly skilled senior technicians that have been servicing equipment for more than ten years and, in some cases, more than twenty. At any given moment, a small question to a team leader can turn into an in the field learning experience.
What are some of the more interesting or challenging issues you face on the job?
Usually, a field service technician faces a challenging or interesting issue every day. Some of the most challenging problems might be when a forklift breaks down in a freezer application in the middle of the summer. It's never fun having to gear up from a sunny 95-degree day and head into a subzero atmosphere with a bag of tools to repair a broken piece of equipment. I must say, it is very rewarding when you get the truck back up and running.
Technology is changing so rapidly. How do you stay up to date?
There are countless outlets in the material handling field to stay on top of the never-ending advancements in technology. For instance, here at Abel Womack, we have instant access to the Raymond portal via our Toughbook computers. This portal is very much how it sounds, a portal into the world of Raymond. Within this portal, you can find everything from software updates to technical bulletins and news updates on upcoming technology breaks.
What's the best aspect of being a field service technician?
There are so many great aspects of being a field service technician, so I will just name a few. My absolute favorite part of being a field service tech is the constant interaction with customers. From the initial first greeting handshake with the customer to the six months later friendly conversation is what does it for me.
My second favorite aspect of being a service technician would be "the van." It is so convenient to have a rolling toolbox! Commuting from customer to customer in your own, personal work van listening to the music you want, or being able to make that quick stop on your way to the next job to grab a nice cup of coffee really goes a long way.
What's your motto when it comes to customer service?
When it comes to customer service, my motto is "leave an impression that will not be forgotten."
What words of advice would you offer to a new technician just starting in the material handling industry?
A few words of advice I would offer to a new service technician would be to never be scared or worried to ask for help. Every technician once started in the same position. In this industry, I have learned that it doesn't matter if you have been a technician for one year or thirty years; we are all still learning every day we are in the field.
What makes Abel Womack a great place to work?
This I will say is the toughest question of all. There are so many great things about working for Abel Womack. The constant family feel is always present—whether it be at a Christmas party, family picnic, or just a stop in the office to pick up parts for the day, I have always felt welcome. After the first day, I knew Abel Womack was where I wanted to be and where I want to spend the rest of my work career.
I have worked for other employers, and not one of them could top Abel Womack. I consider Abel Womack a home away from home, a second family to my own. If I am ever in need of guidance or just another set of hands, I know my fellow teammates are just a phone call away. Did I mention the great benefits and the nice new work vans we get every couple of years?
Our employees set us apart
The talented, caring, and hardworking technicians and experts on the Abel Womack team have helped make us a leader in material handling and service. For nearly 100 years, clients and new customers turn to us for high-quality service, top-notch customer care and innovative solutions.
We're always looking to add outstanding talent to our team. If you are looking for a great place to work and grow your career, apply online. If you are interested in learning how Abel Womack can make a difference in your operation, contact us today to speak with a member of our team.