December 1, 2014 –
Robotics have been widely deployed in US manufacturing and packaging operations in order to help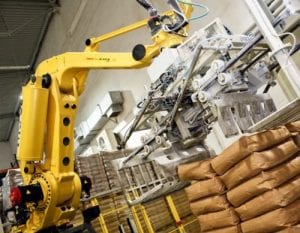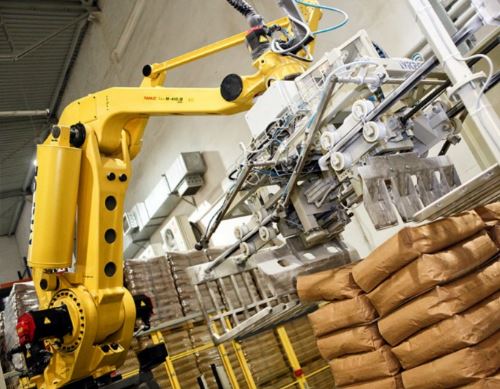 companies keep up with the ongoing business demands of quality, cost savings, productivity and employee safety (ergonomics). So would your operation benefit from integrating a custom robotic solution? To help you answer that question, consider these four signs that your manual process is a good candidate for an integrated robotic solution.
Your operation has a repetitive process.
Processes like pick and place that are part of a packaging or assembly process can be automated using robotics. Additionally, bags, boxes or buckets are routinely palletized using robotic work cells and can be integrated with empty pallet dispensers, full pallet handling conveyor and automated wrapping systems to improve rates, stack stability and packaging quality.
Ergonomic issues are present in your operation.
Repetitive lifting from low to high levels, awkward movements and twisting and turning are all situations that can cause costly injuries. Manually moving heavy product on a repetitive basis (even as light as 5 -10 lbs.) can be something to avoid. Robotic work cells can, in the right circumstances, eliminate the risks associated with these work conditions.
Labor and Management costs are high due to multiple shift operations.
If you have relatively low skilled labor performing these repetitive tasks on 2nd and 3rd shift, it is possible to redeploy that labor to higher purpose with more value add to your business. The cost of that labor often covers the cost of implementing a robotic solution, providing an immediate Return on Investment (ROI). In addition, you may be able to avoid the need to have additional supervision for multiple shift operations and eliminating a shift will reduce utility costs.
Production Rates are increasing.
Robotics is a good solution to consider when your production rates are increasing. Often, additional labor or even a 2nd shift can be avoided when a highly productive robotic solution is implemented. The buildup of work in process during multiple shifts can cause the need for additional packaging capacity. A high speed robotic work cell can often provide a viable solution to this problem by processing multiple shifts of production during a single packaging shift.
Remember that the cost of robotics has come down significantly in recent years.  With that said, it still can be a significant investment. Often, a walk through with a robotics integrator can help you quickly qualify opportunities, known and unknown.
Does anyone have an experience integrating robotic automation that you would like to share? Please leave your comment below.