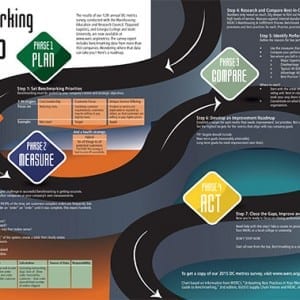 Click here to view original web page at www.dcvelocity.com
material handling update | 12th Annual Metrics Study
The results of our 12th annual study of DC metrics are in. Here's how to use the data to evaluate your own facility's performance.
The results of our 12th annual DC metrics survey, conducted with the Warehousing Education and Research Council, TSquared Logistics, and Georgia College and State University, are now available at www.werc.org/metrics. The survey report includes benchmarking data from more than 450 companies. Wondering where that data can take you? Here's a roadmap.
About the Authors
Join the Discussion
After you comment, click Post. If you're not already logged in, you will be asked to log in or register.
Feedback: What did you think of this article? We'd like to hear from you. DC VELOCITY is committed to accuracy and clarity in the delivery of important and useful logistics and supply chain news and information. If you find anything in DC VELOCITY you feel is inaccurate or warrants further explanation, please contact Chief Editor David Maloney. All comments are eligible for publication in the letters section of DC VELOCITY magazine. Please include you name and the name of the company or organization your work for.