Food processing has a diverse range of material handling needs that demand custom solutions for all areas of operation. From receiving raw materials to moving through the processing phases to shipping them through the supply chain, you put your lift trucks to the test every day.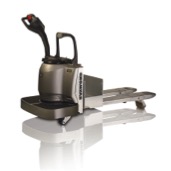 Our complete range of Raymond electric lift trucks and technological solutions are configured and optimized for any processing application so you can move more product faster, safer and more efficiently, in any environment. Our pallet trucks are designed specifically to withstand the harshest applications, including the food and pet food processing, poultry, meat, fish and cold storage environments where frequent wash downs, exposure to corrosive fluids and brine and extreme temperatures occur.
The Raymond Extreme Environment Corrosion Package features highly engineered galvanized trucks that are made from the highest grade zinc available to handles these varied conditions, extend the life of the truck and reduce maintenance cost. The extreme package features: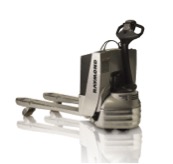 State of the art galvanization to increase durability
Stainless steel and nickel-plated load wheel pins
Sealed switches and bearings
Controller splashguards
Composite bushings
Shielded motors
Contractor covers
Download our free white paper on Anti-Corrosion Protective Systems for Walk-Behind and Ride-On Electric Pallet Trucks or contact us for more information.