Abel Womack provides engineering services and material handling equipment solutions for general and refrigerated warehouses. We work with developers and architects to design optimal systems for warehouse productivity as well as renovate existing structures to gain floor space and improve efficiency.
Raymond offers reach trucks that can operate in refrigerated warehouses, cold storage facilities and freezer environments with features that improve operator comfort for increased efficiency and superior performance.
At t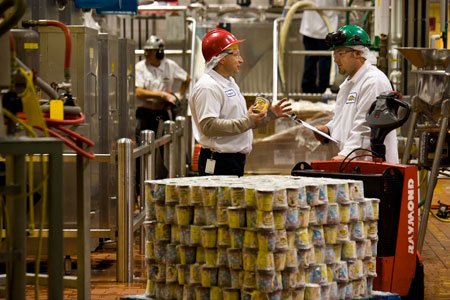 he new Ben & Jerry's ice cream distribution center (a 2,000-pallet freezer) in St. Albans, VT, the freezer was built to store all of the company's ice cream which is distributed to sites worldwide.
Ben & Jerry's chose the Raymond Deep-Reach electric forklifts, outfitted with cold-storage conditioning packages and Raymond ThermaKit System that warm the control handle and floor pad for operator comfort.
Our solution for Tappan Wire and Cable's manufacturing and warehouse facility took advantage of Raymond's wire guided, very narrow aisle lift truck technology to increase operator productivity and recover 9,000 SF of space in the facility. The recovered floor space allowed Tappan to purchase modernized manufacturing equipment and increase their production of new products.
Raymond Lift Trucks for the Warehousing Industry:
Stand-up Counterbalanced Trucks
3-Wheel Sit-down Counterbalanced Trucks
4-Wheel Sit-down Counterbalanced Trucks
Orderpickers
Swing-Reach Trucks
Pallet Trucks and Tow Tractors
Hand Pallet Trucks
Contact us today for more information on how Raymond forklifts can improve performance in your cold storage warehouse.
Other Cold Storage Material Handling Equipment and Accessories:
Robotic palletizers can function in a variety of cold environments. The robot can work without modifications in environments down to 33 degrees F. With an optional cold weather package, the robot can perform in environments as low as minus 10 degrees C.
McCue bollards and rack guards are maintenance-free, perfect for the freezer.
Click here to return to the main Industry page.