Furniture warehouses have several challenges when working with their stock:  the furniture can be delicate and easily damaged, sizing can be awkward and packaging can be bulky.  Raymond lift trucks with their narrow aisle capacity, can significantly reduce damage to stock and enhance efficiency.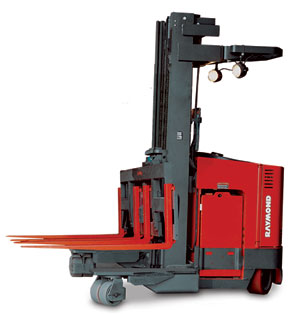 Raymond has several lift trucks that excel in the furniture warehouse environment to reduce worker fatigue and provide longer shift comfort for operators.
4-Directional Trucks
Orderpickers
Swing-Reach Trucks
Sideloaders
Pallet Trucks and Tow Tractors
Hand Pallet Trucks
Contact us for more information on how Raymond lift trucks can improve performance in your facility.
Read how Raymond equipment increased efficiency and warehouse operations at Bob's Discount Furniture in Taftsville, CT.