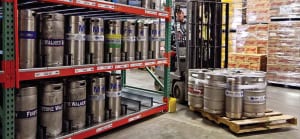 Abel Womack specializes in helping beer distributors and breweries store many SKUs in a smaller footprint. We are very aware of the growing concerns in the beer distribution industry. These include space availability that the proliferation of SKUs is causing distribution centers across the U.S. Abel Womack has focused on uncovering a solution for this ever growing problem and we believe we have it.
If you are experiencing this storage space dilemma, we are well positioned to assist our customers with expansion and storage solutions. We have included case studies below which reveal innovative ideas that could help you with a potentially growing storage space problem.
The challenge for you to easily access the right SKU at the right time with the least amount of resources is integral to our solutions. We combine leading-edge storage and retrieval technologies with our decades of warehouse engineering to provide you with a solution that saves your company time and money while ensuring that your customers get the freshest product quickly, accurately and efficiently. 
Scroll through our case studies to see how we have helped many customers increase space, operational efficiencies and productivity in their facilities.