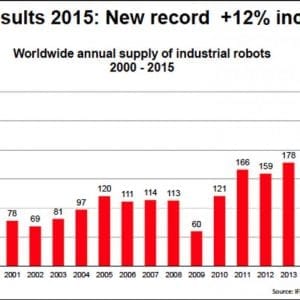 Click here to view original web page at www.therobotreport.com
Worldwide sales of industrial robots set a new record: 248,000 units sold in 2015, 12% more than 2014. 66,700 units sold in China of which 20,400 were made in China.
Asia is still the strongest growth market with 156,000 units for the region, a 16% increase over 2014, but that figure is much lower than the 27% projected. The rate of growth of China-made robots penetrating the market also didn't grow at the projected rate but it did grow at a healthy 31% rate.
At a press conference and CEO Roundtable held today at AUTOMATICA in Munich by the International Federation of Robotics (IFR), where these figures were presented, the consensus rationale for not meeting the overall and China projections was:
that the robot-assisted electronics assembly market was nowhere near as strong as projected;
that key components still had to be imported at high cost thereby making China's robot makers have higher costs and higher selling prices than planned;
and because China's auto industry was over-saturated with robots and needed time to integrate them into their systems before additional orders could be placed.
The IFR, in the remarks of their President, Joe Gemma, strongly believe that manufacturing jobs will change in the new era of digitalization and Industry 4.0. Workers will focus on jobs that require judgement, common sense, creativity, problem-solving and dexterity, and be freed from repetitive tasks. Further, mobile robots will optimize materials handling; collaborative robots will assist workers in a variety of tasks; and simplification of the use of robots will enable more companies to use robots.
For 2016, 2017 and 2018, the IFR is projecting an 18% CAGR (compounded annual growth rate).
At the IERA Awards ceremony held last night in Munich, the IFR/IEEE Invention and Entrepreneurship in Robotics and Automation (IERA) award was given to ABB Robotics for their two-armed YuMi collaborative robot.
Frank Tobe is the owner and publisher of The Robot Report. After selling his business and retiring from 25+ years as a provider of computer direct marketing and consulting to the Democratic National Committee, major presidential and other campaigns and initiatives, he has energetically pursued a new career in researching and investing in robotics. In 2013 he co-founded Robo-stox™ LLC (renamed to ROBO Global) which developed a tracking index for the robotics industry: the ROBO Global™ Robotics & Automation Index.