November 2, 2020 –
This holiday shopping season is predicted to be like no other. With a longer shopping season due to Covid-19 getting ready to start, warehouses, distribution and fulfillment centers need to be ready for the next e-commerce surge. One of the factors driving this surge is that consumers want their orders lightning fast. So, avoiding breakdowns and unscheduled maintenance is critical to your operation's success and meeting those demands.
Unfortunately, equipment does wear, and parts eventually need to be replaced. When you find yourself in need of parts for your material handling equipment, and you need them just as fast as consumers need their items, where do you turn?
Consider the source
When it comes to parts, Abel Womack is your one stop shop. Our parts inventory not only includes factory-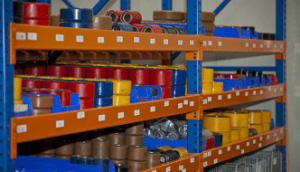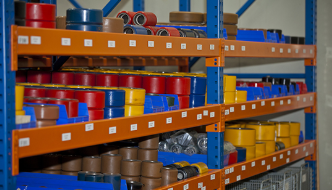 authorized Raymond parts but we also partner with RayBuilt, Durasource and LiftPartners, who stock millions of aftermarket parts for 170 brands of forklifts.
In addition, we support other material handling equipment parts, including conveyors, Kardex Remstar automated storage and retrieval equipment, Tennant sweepers and more. With a single-source parts provider, you save time and money with just one call, and one source.
If you're not quite sure of the exact part you need, speaking to someone can be extremely helpful. Our experienced, dedicated, and responsive team of professionals are ready to assist you. When you call during business hours, someone is always available to help. Even though we sell robots, you won't be talking to an automated robot when you call. If you prefer to contact us online, we're just as responsive to emails.
A few more reasons to choose one of our parts sourcing solutions
With three warehouses conveniently located throughout New England and metro New York
coupled with our knowledgeable team, Abel Womack offers efficient, accurate and expedited parts sourcing. Typically, we fulfill orders the same day. Our goal is to get your equipment working as quickly as possible.If you have a Raymond fleet or a mixed forklift fleet, Abel Womack offers a consignment parts program that saves you time, money, and effort. Our team will manage and replenish the inventory you use, thus helping to reduce inventory levels of slow-moving parts and increase the inventory of the parts you use most. Plus, you only pay for the parts you use.
Another option is having Abel Womack manage your parts inventory and restock when supplies are low. We can ship for delivery within 24 hours for most parts, saving you time and effort so you can focus on more important things.
Preparing for the season
Having been in business almost 100 years, we're in this for the long haul. So, whether you're ordering one part or many, whatever method you choose to source your parts- we'll continue to take care of you.
Did I mention that we're part of a larger parts network? This is good news if you have other locations around the US, we can serve you wherever you are. How's that for coverage?
Ready to give our competitive part pricing and customer service that's second to none a try? Call us today and let's start building a lasting partnership.